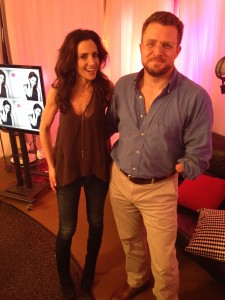 On tonight's show, Emily has clinical psychologist Dr. David Ley in the studio to discuss his book "The Myth Of Sex Addiction" – Is it real? Or do  we live in a world addicted to addiction?
Emily and Dr. Ley explore the difference between healthy and unhealthy sexual behavior, the urgency of sexual communication, the psychology of porn and the cryptic cuckold lifestyle.
David shares his journey through the field of alternative sexuality, as well as his controversial work on the myth of sex addiction. From AIDS and the "down low" to Clinton's Oval Office activities, Dr. Ley explains the origins of the sex addiction myth, and our society's fear of sexuality.
The two also discuss:
Swingers, cuckolds and insatiable wives: What lessons can we learn from people living alternative lifestyles?
What is the wisdom of the penis?
How a little healthy sperm competition could be the secret to speedy conception (and successful porn)
Why women with male friends are having more sex
This Podcast will teach you how to approach sex in a healthy way. The secret to having an amazing sex life is all about balance – sometimes you need to have the deep sex talk and sometimes you just gotta bone like strangers. Emily & Dr. Ley teach you how in the latest Sex With Emily episode!
Can't get enough SexWithEmily?
Subscribe on iTunes and never miss your bi-weekly Sex With Emily podcast…
Special discounts for listeners of Sex With Emily:
Use coupon code GVEMILY20 for 20% off at Good Vibrations and coupon code EMILY for 20% off my Aromatherapy Massage Candle and DownUnder Comfort at Emily& Tony.
Go to Promescent to make love longer.
Increase your stamina with the #1 selling sex toy for men, Fleshlight. Use code: Emily to get a FREE bottle of Fleshlube with your purchase.
Stop by Hustler Stores in Hollywood or the closest store near you for all your kinky needs- Don't forget to mention "Sex With Emily" at the counter for 20% off your purchase.