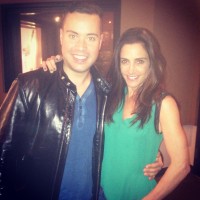 Become charming and confident, even if you have no idea what to say and have no confidence whatsoever. Jordan Harbinger is a lifestyle coach. He teaches men The Art of Charm (no natural charm required). He starts by identifying any situational confidence a man may or may not have. If a man is extremely confident in his work as a doctor, Jordan shows him how to channel that confidence into talking to women. Talking about your favorite band and alcoholic beverage of choice will become as easy as talking about scalpels and stethoscopes.
Jordan explains how men can shift their body language to change how women perceive them. If a guy doesn't have any situational confidence, they have to start from scratch. Men must unlearn all the negative things they think about dating and women. All that negativity is extremely unattractive and hinders men from having the relationships they want. Women can sense when a guy isn't being genuine. If you want to attract women you have to find out what you bring to the table, and bring it!
Jordan also talks about how men can deal with rejection. Some men would rather feel like a comfortable failure than put themselves out there. With low risk comes low reward. A word from the wise, don't linger by the bar bathroom because you're afraid to approach her when she's with her friends. You don't want to be the creepy guy lurking by the women's bathroom. Just walk up to her and start a conversation (Jordan will tell you what to say).
Once you get the number, Jordan tells you what to text her. Unless you want to be watching Men In Black II alone on a Saturday night, avoid "Hey, What's Up?" He even tells you where to go on a date. Whatever you do, don't go to a dinner and movie. To sum it up: what most men are doing, just isn't working. Unless you want to be the creeper lingering by the bathroom, listen to this podcast.
Special Offer for listeners of Sex with Emily: The Art of Charm
If you want to change your love life check out: Emily and Tony, Promescent, Crazy Girl, Max4Men, Masque, and Good Vibrations.
Emily and Tony is a premium, intimate personal-care brand that believes intimacy should be fun, flirty, sensual and natural. Our products: Aromatherapy Massage Candle, Personal Naturally Hydrating Lubricant, and DownUnder Comfort for you sweaty nether regions.
Use coupon code Emily25 at checkout for 25% off your purchase at Crazy Girl and Max4Men.
Use coupon code GVEmily20 at checkout for 20% off purchases of $100 or more at Good Vibrations. Or use coupon code Emily for 15% off anything at Good Vibrations.