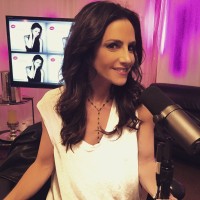 Today's episode of Sex With Emily is about everyone's latest obsession.. Yes, we're talking female ejaculation! Emily and Anderson discuss this hot topic, share the latest sex in the news, and answer your listener emails that you sent to Feedback@SexWithEmily.com. Topics include getting into kinky sex, bringing new toys into the bedroom, how porn may be affecting your sex life, and more.
But first, Emily catches us up on her full 12 days of sex-related convention hopping, from the XBIZ porn awards to the Sexual Health Expo and everything in between. She's seen some things, and she shares her stories of porn stars, penises, and MILF's – Oh my!
Then it's on to stickier subjects. Emily answers a listener's email about squirting insecurities and weighs in on the ongoing female ejaculate debate. Does it exist? Is it really pee? And more importantly, if it turns you on, why does it matter?
Emily and Anderson address some more common bedroom concerns. Emily reassures a worried husband about his sex toy fears – Will his wife get addicted to their new spicy sex life and lose her taste for all natural lovemaking? And is your solo porn-viewing behavior weighing down your real-life sex drive? Emily gives advice on how to find the balance between porn and real-life sexual relationships.
This episode tackles answers some of the key sex issues and gives tips to move past those sexual hangups. Great sex is just around the corner, and Emily can help you get there.
Can't get enough SexWithEmily?
Subscribe on iTunes and never miss your bi-weekly Sex With Emily podcast…
Special discounts for listeners of Sex With Emily:
Use coupon code GVEMILY20 for 20% off at Good Vibrations and coupon code EMILY for 20% off my Aromatherapy Massage Candle and DownUnder Comfort at Emily& Tony.
Go to Promescent to make love longer.
Increase your stamina with the #1 selling sex toy for men, Fleshlight. Use code: Emily to get a FREE bottle of Fleshlube with your purchase.
Save 10% off beautiful high-quality sex toys at Je Joue when you use code: Emily
Stop by Hustler Stores in Hollywood or the closest store near you for all your kinky needs- Don't forget to mention "Sex With Emily" at the counter for 20% off your purchase.