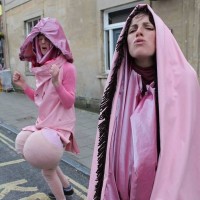 Emily gets up close and personal with The Vagina Lady. What's The Vagina Lady's mission? To help women overcome shame for having a vagina. Women are extremely self-conscious about their, um, lady parts. They're so ashamed they don't even want to say the word vagina! But vaginas are awesome for so many reasons. I mean, they have about twice as many nerve endings as the penis. So the next time you feel like vaginas are the inferior genitals, just think about that!
This podcast is important to listen to no matter if you have a vagina or not. Many men feed into women's insecurities by making them feel like they don't measure up. Women get Labiaplasty to fit a certain standard of beauty perpetuated by porn. But every woman's vagina is different and fine just the way it is. But if you do want to improve your vagina, do your Kegels! Emily and the Vagina Lady walk you through how to do your Kegel Exercises to feel tighter and healthier down their. Men can also do their Kegels to last longer during sex!
Emily also asks the Vagina Lady, "If a man could ask a vagina a question, what would it be?"  Also, "if a woman could ask her vagina a question what would it be"? All your vagina questions answered in the podcast! Listen up and love your junk.
Special Offer for Listeners of Sex with Emily: The Vagina Lady
If you want to change your love life, check out my good friends: Crazy Girl, Max4Men, Masque, and Good Vibrations.
Use coupon code Emily25 at checkout for 25% off your purchase at Crazy Girl and Max4Men.
Use coupon code GVEmily20 at checkout for 20% off purchases of $100 or more at Good Vibrations.
Enjoy, The Vagina Lady!