"Hey Siri, how should I spend Valentine's Day this year?"
You've come to the right place. Here at Sex With Emily, we didn't just curate some V-Day gifts and call it good. It's 2022, and damn if we haven't earned ourselves a majestic day of sex and self-love. Who's with me?
We've created a guide full of choose-your-own-adventure pleasures, with options for partnered or solo play. Whether you want to deepen your relationship with another or deepen your relationship with yourself, we've got spicy ideas for both. So draw back your Cupid's bows, and let the romance (slash, orgasms) begin.

Sexy Truth or Dare
Just as the name implies: the game you've known since childhood, but sexed up for grown-ups. Play it with someone who's up for anything.
Under The Bed Restraint System
There's something exciting about not being in total control. Bondage heightens sexual tension, it creates a power dynamic, and tbh, it's pretty hot-looking. These restraints turn any bed into a BDSM playground, so give them to someone who's just as kinky as you are. 
Fun Factory Blow & Glow Kit
A veritable box of fun, with not one but two penis toys, a yummylicious candle, and videos to teach you new sex techniques. Also comes with a cute scrunchie, because why not? 
Sexy 6 Foreplay Dice
Listen up: contained in these six little dice, there are 720 different possible combos of sex acts. So roll the dice, and let fate decide your sexploration. 
Sweet and Sexy Candy Nipple Tassels
Snacktime and playtime rolled into one. Win-win.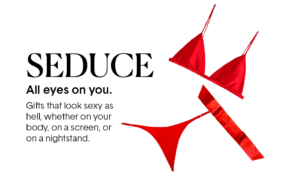 Silk Lingerie from Fleur du Mal
Classic for a reason: whether it's a triangle bra, a barely-there v-string, or a playful blindfold, everything feels better in silk. Get it for someone who likes that smooth touch. 
Squirm Exploratory Box
Sexual touch comes in many forms: soft, hard; caresses, spanks. Give this box to an especially tactile lover, whose eyes will light up at the sight of furry gloves, black claws, and an eye mask to sharpen their focus. 
Beach Side Bunny Belly Chains
For all the undercover mermaids in your life, give them some chains that will look fab come bikini season…and are equally hot on V-Day, with their outfit or lingerie.
Black Cake Zodiac Candle
What's their sign? Because these cheeky candles are illustrated to show sex positions that fit their zodiac profile. 
MasterClass: Sex & Communication
Hey, it's me! Teaching you to ask for what you want. Watch, learn, and discover new sexual adventures, with yourself or with a boo.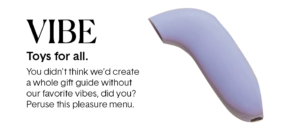 Magic Wand
The OG pleasure massager that'll hit bullseye on their heart…and other areas.
Dame Aer
Give your favorite vulva owner (perhaps you?) a toy that simulates crazy-amazing oral sex. 
Love Life Club 2.0
Slip this into your underwear for a fun secret –  only you two know about. As a wearable, app-controlled vibrator, your lover can "tell" you that they're "thinking" about you anytime.
We-Vibe Date Night Set
Toys for everyone! This innovative kit comes with a vibrating cock ring, and a toy for vulva owners that stimulates their erogenous zones outside and in. Did I mention you can wear this stuff during partnered sex?
Giamo G-Spot Vibrator
Breaking news: every vulva owner can squirt. So gift them or yourself this elegant toy, which not only delivers deep, internal O's – it helps refine squirting skills.
Tenga Eggs
But for real: how cute are these? Disposable masturbators with a stretchy sleeve, these eggs offer stimulating internal details to the penis-owner wearing them. 
Pocket PULSE from Hot Octopuss
This self-stroking "guybrator" is cool because you don't have to be hard to start using it. But once it's turned on, that could change…quickly. Give it to any penis owner who loves their solo sex. 
Mio Cock Ring by Je Joue
A cock ring that vibrates? Good for solo or partnered play? And it's giving off Bond-vibes? Put a bow on it, stat.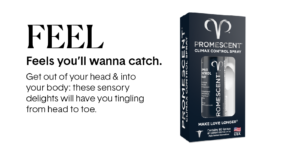 Self-Love Box from House of Intuition
Supercharge your self-care with a bath ritual that's as luxurious as it is witchy. Whether single or in a relationship, use this box to affirm your undeniable value, love's abundance, and your unique divinity. 
OSEA Body Oil
Today of all days, we're pampering our skin bb. Give this ultra-moisturizing formula to someone you can't wait to touch, and that includes you.
Promescent Delay Spray
Penises are full of nerve endings, but this helps them chill out. Grab a bottle if you (or your love) wanna keep it going all night.
SKYN Pleasure Pack
For folks who can't stay loyal…to one type of condom. Variety is the spice of life, so live it up with a box of these. 
System JO Creme Brulee Lube
Just a little, tiny bottle that transforms oral into dessert. 
PILLO Sex Pillow by Dame
Whether you're feeling yourself or exploring with your partner, this pillow helps you engage different muscles (and relax others), in a way that makes the sex even more novel-feeling.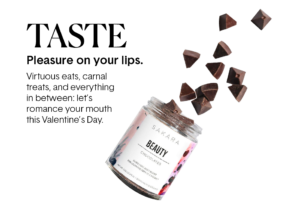 Beauty Chocolates by Sakara
Chocolate that makes you pretty? Add to cart. 
Athletic Greens
What time is it? Glow o'clock. Time to sip some antioxidants, then head out for an invigorating yoga class or dog-walk. Gift a subscription to anyone (including you) who wants to love on their gut health this Valentine's Day. 
Avaline Organic Wine
Toast to all the magical energy you've generated today, with a vino lover who says "no" to pesticides but "yes" to full-bodied flavor. 
Elle's Belles Hot Lips Sugar Cookies
These lip-shaped cookies are serving attitude, and frankly, I'm into it. Serve these on a tray for Galentine's – only after taking copious selfies with them. 
AYA Sushi Lovers Set
Heart-shaped sushi = the most adorable plate ever? 
Glamping Wine
Plan Valentine's Day date that says, "I'm sophisticated buuuut I also like to hike around and get my hands dirty." Stroll vineyards in a most romantic way, then raise a glass to your love underneath the stars.