At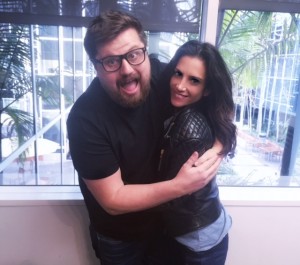 one point or another, all relationships run into problems. Dating is a battlefield, love is a journey, and today's podcast is here to help guide you along the sometimes perilous path to relationship satisfaction. Do you and your partner have what it takes to go the distance? Should you stay or should you go? And how do you get over an unexpected breakup?
But first, Emily and Menace weigh in on the development of new color-changing, STD-detecting condoms and discuss the social implications of a "World's Prettiest Vagina" online photo contest. If all vaginas are unique snowflakes, what makes one kitty the most pretty?
How happy are you with your relationship? Most of us have a couple things in our love lives we would like to improve. Emily helps 5 listeners with unique relationship problems figure out the next step to calming their romantic qualms. Are you starting to have feelings for someone else? Are you nervous about trying new things in bed? Maybe you're just bored and don't know what to do. Whatever your hang-up, Emily gives guidance and tips that can be applied to any relationship in need of boost.
From heartbreak to jealousy, long-term relationships to open relationships, this Sex With Emily podcast is all about navigating the seas of dating and commitment. For tips on how to get happier in love, check it out!
Can't get enough SexWithEmily?
Subscribe on iTunes and never miss your bi-weekly Sex With Emily podcast…
Special discounts for listeners of Sex With Emily:
Use coupon code Emily for 15% off at Good Vibrations and coupon code EMILY for 20% off my Aromatherapy Massage Candle and DownUnder Comfort at Emily& Tony.
Go to Promescent to make love longer.
Increase your stamina with the #1 selling sex toy for men, Fleshlight. Use code: Emily to get a FREE bottle of Fleshlube with your purchase.
Stop by Hustler Stores in Hollywood or the closest store near you for all your kinky needs- Don't forget to mention "Sex With Emily" at the counter for 20% off your purchase.