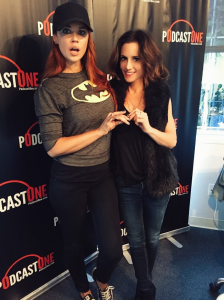 Happy New Year, lovers! To ring in 2016, Emily welcomes fellow blogger, podcaster and former Playmate Jessa Hinton to the show. The two talk about their sexual pasts and relationships present, and discuss better dating practices for the new year.
When it comes to sex, Jessa Hinton has had her fair share of fun and isn't afraid to share her stories. She lets us in on what she thinks makes "great sex" and which toys are her favorite in the bedroom, sheds light on the intimate details of dating as a bisexual woman and even gives the juicy scoop on her steamy new relationship. She and Emily also trade viewpoints on giving oral sex vs. receiving, faking orgasms, how to properly "make love."
Then the pair take to your emails, addressing your questions to help you find success in sex and dating in 2016. Whether you're dealing with attachment issues, oral sex fears or detecting flirtation from a possible love interest, Jessa and Emily have the tips to point you in the right direction as you pursue your future romantic goals.
There's nothing like the expertise of two strong women to kick off a new year, and this show has it in spades! Break old patterns and blaze new trails this year with help from Jessa Hinton and Sex With Emily!
Want more Jessa Hinton?
Follow her on Instagram & Twitter @JessaHinton
Visit her website: www.jessahinton.com
and
Check out her new podcast Anything Goes with Jessa Hinton! New  episodes every week!