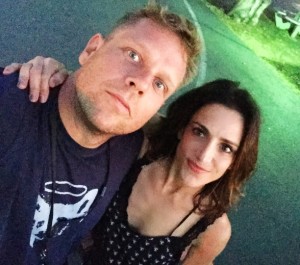 Today on the Sex With Emily podcast we're tackling a handful of complex sex issues, from mismatched libidos in your relationship to sex tips for lovers who still live at home to what to do if your partner's choking fetish makes you feel uncomfortable. Any of this sound familiar?
But first, Emily and Anderson recap her recent girls' trip to New York, including  Emily's first ever fist fight in the Historic Meatpacking District. You'll laugh, you'll cry and you'll beg to see the video footage. Also, would your local strip club benefit from a five dollar all-you-can-eat lunch buffet? This week's Sex in the News highlights Silicon Valley's new favorite lunch spot and reveals that 20% of West Coasters are admitted cheaters.
Then it's on to your emails! Emily helps listeners get the most out of sex with the person they love. What do you do if your desire isn't being reciprocated? Where do you have sex if you live with your parents? How do you tell your girlfriend that you don't want to choke her? These are sensitive topics and complicated questions. but Emily uses her expert guidance to steer your sex problems into "solved."
Whether you're you're itching to hear about a real life girl-fight or wondering about the role of scent in sexual attraction, this show has everything you're looking for. Don't miss it!
Can't get enough SexWithEmily?
Subscribe on iTunes and never miss your bi-weekly Sex With Emily podcast…
Special discounts for listeners of Sex With Emily:
Use coupon code Emily for 15% off at Good Vibrations and coupon code EMILY for 20% off my Aromatherapy Massage Candle and DownUnder Comfort at Emily& Tony.
Go to Promescent to make love longer.
Increase your stamina with the #1 selling sex toy for men, Fleshlight. Use code: Emily to get a FREE bottle of Fleshlube with your purchase.
Stop by Hustler Stores in Hollywood or the closest store near you for all your kinky needs- Don't forget to mention "Sex With Emily" at the counter for 20% off your purchase.