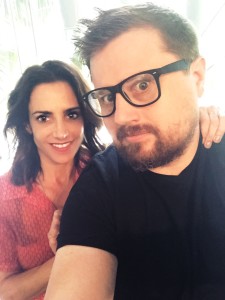 In today's show we're talking cuckolds, fetishes, orgasms and so much more. Emily is taking to the emails to answer all of your most pressing sex, dating and relationship questions. No matter what you're into or how you like it, she's bringing you the tips you need to embrace and enjoy a full sex life!
But first, Emily and Menace surf some scandalous Sex in the News stories about penis costumes to promote safe sex and secret surgery voice recordings. Ever wonder what they're saying about you when you're knocked out on a hospital bed? Also, learn why Emily loves going stag to weddings, and what she learned during her most recent psychic reading.
Are you confused about your orgasm? Does your husband dislike blowjobs? Are you really really into pantyhose? These are just a few of the questions Emily tackles from our loyal listeners. She shares her knowledge on fetishes, oral sex and orgasms and explains how these issues can affect your relationships and your confidence.
From blended orgasms to sex in hotel bathrooms, this podcast takes on a wide variety of sex and love issues. Everyone gets turned on or off by a unique combination of things, and Emily is here to help decipher the signs!
Can't get enough SexWithEmily?
Subscribe on iTunes and never miss your bi-weekly Sex With Emily podcast…
Special discounts for listeners of Sex With Emily:
Use coupon code Emily for 15% off at Good Vibrations and coupon code EMILY for 20% off my Aromatherapy Massage Candle and DownUnder Comfort at Emily& Tony.
Go to Promescent to make love longer.
Increase your stamina with the #1 selling sex toy for men, Fleshlight. Use code: Emily to get a FREE bottle of Fleshlube with your purchase.
Stop by Hustler Stores in Hollywood or the closest store near you for all your kinky needs- Don't forget to mention "Sex With Emily" at the counter for 20% off your purchase.