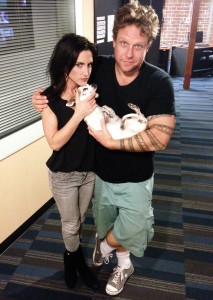 Tis' the season for giving thanks – So what are YOU thankful for? Your friends? Family? Multiple orgasms?
This very special Thanksgiving episode is all about strengthening your relationship through gratitude. Emily's teaches you the importance of appreciating your partner, not just for Thanksgiving, but all year around. Between talk of Thanksgiving plans and one night stands, Emily shares some of the things she is most grateful for and reminds us why we all should be thankful for sex.
It's the holiday season, so brace yourself: Awkward questions from family members are coming – "Why are you single?" "When are you getting married?" "Where are my grandchildren?" Anderson and Emily share some unconventional advice to help you sidestep those uncomfortable holiday discussions.
Ready for a lesson in partner appreciation? Feeling a lack of appreciation is one of the main reasons why many relationships suffer.  Emily explains how little things, like saying thank you or a simple compliment, can go a long way with your significant other. She and Anderson touch on the many ways to show your partner how much you care, and give tips to improve the communication in your relationship.
Appreciation is like oral sex – You gotta give a little to get a little and this Podcast will tell you how!
**Special Black Friday/Cyber Monday Offers**
From November 28 to December 1, get 30% off Emily & Tony those Aromatherapy Massage Candles, Down Under Comfort and all other Emily & Tony products.
From November 27 to November 30, get 25% off across the entire site (minimal exclusions apply)
All weekend, get 20% off all We-Vibe products (like the We-Vibe 4, perhaps?)
For Cyber Monday (12/1 – 12/2), get a free $15 GV Gift Card with $100 purchase & also enjoy 25% off all Lelo products (including the Ora!)
When you pick up your Stamina Training Unit, use coupon code: Emily to get a free bottle of FleshLube