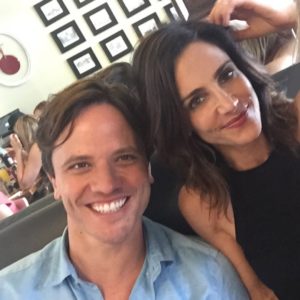 Today, Emily has a special show in store for you. For the first time ever, Sex With Emily welcomes a guest who is actually HAVING sex with Emily. Dr. Ross Grant, musician, medical doctor and Emily's special friend, joins her and Menace to answer your emails and take calls from a couple of our loyal listeners.
Have you ever wondered what it'd be like to find yourself at a real live "Eyes Wide Shut" style swingers' soiree? You're in luck! Emily and Ross share their experience and walk you through what REALLY goes down and imparts practical pointers for anyone curious about attending one of these rendezvouses.
Then the team take to your sex, dating and relationship questions via email and live phone call-ins! Are you worried your vibrator is taking over your sex life? Maybe it just isn't doing the trick like you'd hoped it would? Whether your sex life just needs a little boost or is ready for a sexy new addition, everyone can catch a case of the vibrator blues, and Dr. Emily knows just how to cure them. She also helps a listener who's been discouraged from dating despite his measurable success in other areas of life. What do you do when love seems to continually elude you, even in the free-love capitol of California?
If you're searching for a Sex With Emily podcast unlike one you've ever heard, then today is the day to tune in. From Emily's sex sounds to Sybian experiences to her expert-level smoothie making skills, she and Dr. Ross have plenty to share in this week's episode
Follow Dr. Ross on Twitter: @drrossgrant and Instagram: @dr.rossgrantMDphdOMG
Can't get enough SexWithEmily?
Subscribe on iTunes and never miss your bi-weekly Sex With Emily podcast…
Special discounts for listeners of Sex With Emily:
Use coupon code Emily for 15% off at Good Vibrations and coupon code EMILY for 20% off my Aromatherapy Massage Candle and DownUnder Comfort at Emily& Tony.
Go to Promescent to make love longer.
Increase your stamina with the #1 selling sex toy for men, Fleshlight. Use code: Emily to get a FREE bottle of Fleshlube with your purchase.
Make Hustler Stores your go-to destination for all your kinky needs – Don't forget to mention "Sex With Emily" at the counter for 20% off your purchase.
Unlock the secret to your orgasmic potential with the one-of-a-kind Sybian ($75 off with code: EMILY75)
Tighten and tone your pelvic floor for stronger and more frequent orgasms with the Intensity by Pour Moi.