The absolute best sex upgrades? The most sensual lifestyle goodies? Sexual wellness products that nourish mind, body, and soul? I got you. 
I love curating sexy gift ideas for your holidays. This year, I'm focusing on multi-sensory gifts that give them (or you) that special something, whether it's an arousal boost or a wholly unforgettable orgasm. 
Pleasure is free, but gifts aren't. So I'm keeping everyone's budget in mind, with items ranging wallet-friendly to splurge-worthy. From romance to beauty, wellness to pleasure, you'll find something for everyone here…and probably be tempted to snatch up a few for yourself.
For the Sex Toy Specialist

These toys for the holy grail of orgasms
ENIGMA Wave
(for vulva magic) and
LOKI Wave 2
(for prostate pleasure) by LELO
$207.20 (ENIGMA Wave) // $142.35 (LOKI Wave 2)
Anyone can have a blended orgasm: that highly coveted type of O where you have two different types of orgasms at once. ENIGMA Wave stimulates the external clitoris with sonic pulses that feel just like oral sex, while the internal arm vibes and pulses on the G-spot in a finger-like motion. Meanwhile, LOKI Wave 2 fits inside the anus while you masturbate with an internal arm that pleasures the prostate, with a smaller external arm that vibrates on the perineum while you masturbate. Cue seeing-stars orgasm. 
**Get up to 50% off at LELO during their Black Friday Cyber Monday sale + an additional 10% off using code EMILY10
This vulva vibrator that comes in the cutest box
$19.99
A simple (but powerful) bullet vibe, packaged in a ready-to-gift box. If they're new to solo sex, bullets are an ideal starter toy – but they're also an easy way to spice up partner play. With twelve box designs to choose from, you can pick one perfect for their personality. 

These strokers that make masturbation legit thrilling
$19.90 – $199 
If you've never tried a stroker during solo sex, you're in for a real treat: they provide texture, suction and/or vibration to reach deeper nerve endings and give wildly intense orgasms. Arcwave makes 4 to suit your masturbation game, Ghost for texture and pleasure, Pow for suction and oral-like sensations, Voy for a tightness squeeze your hand can't match, and Ion for pulsating airwaves that stimulate nerve endings you didn't even know you had. 
**Get 20% off all Arcwave products during their Black Friday Cyber Monday sale
This tiny powerhouse
$85
Who knew the world's most powerful sex toy could be shrunken down to pocket-size? Enjoy the famous rumble – and, your extremely good orgasms. If you know Magic Wand, you know that the Micro will pack some serious punch and trust me when I tell you this is both a nightstand and a travel essential.
For the Self-Care Seeker

These actual aphrodisiac gummies
$45
Take a bite, wait half an hour, become super sensual. These babies combine legal THC with aphrodisiac ancient herbs, to make your sex drive come alive. 
**Use code EMILY for 15% off your order at VIIA Hemp Co. PLUS a free shareable 2 piece pack of gummies
These patches that turn you on (+ more)
$42
Cute, colorful patches to give your bod the ultimate reboot. Each patch contains synergistic plant-based ingredients formulated for whatever you need that day: sex, sleep, energy or relief. You name it, these highly bioavailable wellness tools can help.
*Use code "SEXWITHEMILY" for 20% off your order at Fleur Marche

This futuristic face mask for serious glow
$349
Topicals can give great short-term results, but this Red Light face mask rejuvenates the skin on a cellular level with near-infrared and LED therapies. Wear it for 10-20 minutes while gentle wavelengths build collagen, lessen wrinkles, and boost your mood. 
**Use code EMILY for 20% off sitewide 
This kit that brings chill during holiday madness
$85
Stress during the holidays: totally normal. But this lovely kit anticipates what you need to get through it all and start the new year right: solid sleep, sustained energy, on-demand stress relief. Each magical little capsule and gummy is formulated with science-backed ingredients like full-spectrum CBD, B vitamins and lion's mane, and it all comes packaged in a soft, adorable teddy pouch. Cheers to chill. 

These gratitude journals that reflect your flawless taste 
$38
Gratitude physically changes your brain for the better. These journals make daily reflection easy, because they're so freakin' pretty.
This sex guidebook, the only one you'll ever need
$32.00/hardcover // $14.99/Kindle
The book I wrote to help anyone have better sex, solo or partnered. Filled with tips and tricks for sex positions, oral sex, masturbation and orgasms, and interactive sections where you can learn about yourself: personal turn-ons, kink, communication styles and sex IQ.

This gadget that makes your skincare products work 20x better
$199
A nifty device that micro-mists your skincare topicals, allowing them to go 20x deeper into the skin. That makes them an astounding 90% more effective, and for ingredients like retinol, collagen and growth factors, you'll see the difference quickly.
This magical CBD pain reliever
$45
Spiked with hemp flower, arnica and menthol, this rub makes pain go away quicklyyyy. Use it for headaches, period cramps, stiff necks and any other ouchy areas. It's like the natural icy hot.
For the Tech Lover
This safe and effective penis pump
$119.99 (Hydro) // $169.69 (HydroMax) // $299.99 (HydroXtreme)
This nifty invention trains the penis for bigger erections and consistent response. Unlike conventional pumps, Bathmate uses water: just use it in the shower for about 3 minutes, 3-5 x/week. Many users report size gains, having increased confidence and libido, with no need for meds. There are three models to choose from, Hydro, HydroMax, and HydroXtreme: this one gives the most effective workout for better, faster results. Gives "full body workout" a whole new meaning.
These penis rings that create super intense orgasms
$60
The doctor-designed MaxPR puts more pressure on the base of the shaft for those who crave a snug fit to help you or your partner last longer and achieve the right amount of squeeze on the urethra for an orgasm that is straight-up… explosive. If you want all of these benefits AND insights on your erectile health (+ what you can do to improve erections), I love FirmTech's Tech Ring. Think of it like a FitBit for your penis.
**Use code EMILY20 for 20% off at MyFirmTech
This smart meditation headband
Starting at $199
The brain is your largest sex organ so let's keep it dialed for a flourishing sex life. Headbands that act like your personal meditation coach. Made with advanced EEG sensors, they sense when your mind is wandering and give you gentle audio cues to sync you back to the present moment. Achieve deeper levels of concentration, creativity, and sleep with these headbands, whose app gives you fascinating brain state reporting to show you how much you're improving. We're all distracted these days, Muse helps you reclaim your focus. 
These headphones that immerse your entire being
$429
Have you and a lover ever wanted to watch separate TV shows (or listen to different music/podcasts/TikToks)? These noise-canceling Bluetooth headphones make audio so real, it's like you're physically there. 

This famous bike that just got upgraded
$2495 
The famous, class-connected bike plus upgrades like a bigger touchscreen, sharper speakers, a swivel screen for your floor workouts like yoga and core. Everything is upgraded and so are you, after a few workouts on this thing. 
For the Glow-Up Obsessed
This pillowcase that gives you literal beauty sleep
$90
A pillow case that makes your bed sexy and improves your skin. The innovative natural silk prevents bed head, sleep wrinkles, breakouts and blemishes – leaving your locks luscious and your complexion glowing. Post-sex glow + this pillowcase = unbeatable skin. This is the crème de la crème of silk pillowcases, do yourself or your partner a favor with this holiday must-have. Perfect gift for perfect skin. 
This face oil for truly luminous skin
$36 – $68
An anti-aging blend that drastically hydrates the face. OSEA's got a cult following and it's no surprise why, their seaweed-infused products are unique in the world of skincare. This oil gives you that filtered look, but IRL. 
**Use code SEXWITHEMILY for 10% off your OSEA order
This kit that keeps beards clean and amazing-smelling
$45
Beards may look rugged, but the best ones don't itch partners (or wearers). This kit comes with a scented shampoo and conditioner (choose from Verbena Lime, Sandalwood or Vanilla Rum), a beard brush and dopp bag for a face mane glow-up. 
This apothecary that'll make a custom perfume for you
$48
Design a perfume according to your preferred scent family, like musk, floral, earthy, woody, and a ton more: their info guide walks you through scent structure and composition. Top it off with optional crystals and dried flowers, and your very own perfume roller will be handmade and delivered to your doorstep. 
This hair rescue kit that delivers perfect shiny tresses
$113
With a heavy duty detox shampoo, hair mask and hair oil, this #BeautyTok fave transforms hair into soft gorgeous realness – in just one use. A little goes a long way for these futuristic hair products, so use it anytime your mane needs a rebirth.
This AM staple that rolls away face puffiness
$14.99
Give skin instant glow with this vibrating rose quartz roller. You know I'm all about vibrations, this tool directs blood flow to the face, for an ever-so-slight flush. 
For the Potion & Lotion Lover
This sex oil for sensual girlies
$29
Hey sex queen. This oil's made with adaptogenic mushroom blend and aphrodisiac herbs, for one helluva silky slip. Xtina-founded, Sex With Emily-approved. 

This tingly arousal lube
$54
Dab it on, feel the rush to your genitals. Perfect for sexual pain relief, lasting longer in bed, increasing sensitivity, and stimulating more (much more) intense orgasms. Don't sleep on this one.. Thank me later! 
**Use code EMILY for 15% off at Morgasm.com
This delay spray and warming gel that gives everyone better sex
$38.61
For those with a penis, finishing too early can be an issue – but this top-shelf delay spray solves that problem. For those with a vulva, failure to get aroused is an equally frustrating issue – but this warming arousal gel gives all the tingles on their genitals (not to mention a more intense orgasm).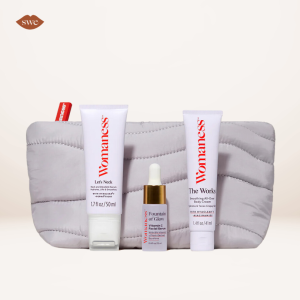 This travel kit that drenches your face, neck, and body in moisture
$55
Take OOO but make it beautiful. This travel bag kit comes with one of the best neck serums on the market, a vitamin C serum for daily brightening and glow, and a smoothing, all-over body cream for anywhere you want to firm.
For The Homebody
These extravagant towels + lush duvet set
$67.15 (2 bath towels) // $227 (duvet set)
For a one-step refresh on the bedroom and bathroom. These thick towels feel like the softest, warmest hug, while this duvet set is peak unfussy luxury. Who's the gift giver with impeccable home taste? That's right, you. 
These aroma-filled candles that double as skin oil
$86
Choose from one of four all-natural scents, infused with essential oils to create a ~mood~: Uplift, Calm, Euphoria, or Passion. Once the mineral wax melts, you can spoon out the oil for a luxurious, warm massage on your partner or yourself. 
This unisex robe that feels like you're at the spa
$127.50
You know those gorgeous waffle robes you see hanging up in fancy resort photos? These are those. Minimalist, luxurious, and soft as hell. 
This weighted blanket that boosts serotonin
Starting at $199
Did you know weighted blankets reduce cortisol, while boosting melatonin and serotonin? Translation: less stress, more sleep and happiness, all from this buttery soft cotton blanket.
This spill-proof mug that keeps coffee piping hot
$23
Lukewarm coffee? Nobody wants that. These popular travel mugs keep liquids hot for 5 hours and refuse leakage, whether you're hiking up a mountain or zipping around town. 
These cheeky bath mats
Starting at $23.20
Sex up your bathroom with these babies. Take your pick from lips, breasts, or a spicy message: "Get Naked" is my personal fave. 
For Partner Pleasure
This hot gift set with sex toys for all
$129 OR $99 for a limited time
If you want to come together (pun intended), this set is for you. Inside the beautiful box is the Mio, a stretchy, vibrating penis ring that keeps the wearer hard, and vibes right on the clitoris during face-to-face sex. There's also a versatile G-spot Bullet for internal and external pleasure, as well as endless teases: run it along their nipples during foreplay, or their inner thighs during oral. Both toys are made with body-safe silicone and feature a rumbly motor with low-frequency vibrations, hitting nerve endings deep inside for a truly satisfying orgasm. 
This kinky, orgasmic gift set for couples
$172
A kink starter kit with everything you need for bondage and light pain play, plus a lube and penis ring that vibrates intensely all along the clitoris. If there's any gift they open up and immediately want to start playing, it's probably this one. 
This penetration-ready vibrator
$209
A vibe that goes inside the vulva, with room for a penis or finger to join the party. An internal arm vibrates against the G-spot, while a flexible external arm vibrates against the clitoris. Most people with vulvas need clitoral stimulation to orgasm, this does the trick while you're having sex.
This actually useful streaming subscription
Starting at $10/month
Become a better lover, a better cook, a better anything — and do it together. From my class on Sex and Communication to classes on dance, writing, music production and more, you'll find exactly the entertainment you want, from the experts that you trust. Give the gift that keeps on giving.
This subscription app that coaches you toward an awesome sex life
$59.99/year
Deepen pleasure and intimacy with your partner in less than 10 minutes a day. If that sounds too good to be true, ask the users of this interactive, science-based app. Two thirds report a better sex life in two weeks.
**Use this link to get 33% off or try it for free for 7 days, no commitment!
For the Style Authority
Her
These totes. It's giving… timeless elegance
$248 – $348
Structured bags that will never, never! go out of style. In a variety of earthy colors and sizes, these classic totes have room for everything: laptop, lube, lingerie…
This knitwear that makes you look cozy and cool
See website for prices
Understated sexiness. These perfectly slouchy sweaters, cardigans and tees make you look like you stepped right out of Folklore and into your date. Pairs well with a roaring fireplace. 
This jumpsuit that makes you look edgy and sophisticated
$389
Instant confidence, without trying too hard. Dress this comfy piece up or down, and if you like the look of this, Ruti's got a whole slew of bestsellers that tilt oh-so gender neutral. 
Him
These joggers for training and/or lounging
$98
Rare is the sweatpant that imbues confidence, but these do. With a structured cut and super soft fabric, these tailored joggers fit right in at the gym, the coffee shop, and your living room. 
This roomy bag for laptop and clothes
$95
Travel across town or across the world looking sharp as hell. With 5 neutral colors to choose from and multiple ways to carry (cross-body, in-hand, shoulder), this eco-friendly bag is an instant hit. 
 This chilly weather must-have
$99.95
It's functional, a tried and true brand, and I'm into it. With 8 color and/or pattern options you're sure to find one he's into. Classic look for a classic guy.
Them 
These classic shades
Starting at $66.26
Because everyone needs a great pair of sunglasses. These babies complete any outfit, communicate inherent style, and oh yeah…block the sun. Want the affordable dupes? Say less. Amazon for the win. 
These iconic sneakers for you to customize
$110
Chuck Taylor high tops never go out of style. But this fun process allows you to play designer with a variety of holiday-ready colors and prints, for a truly one-of-a-kind shoe. 
This sporty fanny pack
$35
A pint-sized fanny pack to join you on your next adventure. Highly water-resistant, enough room for keys/phone/wallet, and I'm digging the slightly vintage color schemes. 
And just like that, your gift recipients are thrilled to know you. Pleasure them with everything you see here…and don't forget to spoil yourself while you're at it.
Want more? Sign up for my newsletter and get sex secrets on the regular.