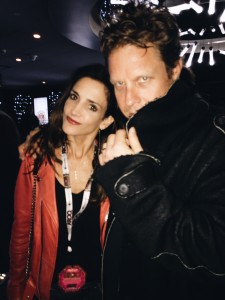 Have the stresses of the season put a damper on your sex drive? On today's show, Emily is full of advice to help you de-stress and sexually connect during the hectic holidays. Plus, she answers your listener emails regarding the best sex toys for gifting, escaping extramarital affairs and unearthing elusive orgasms.
Whether you're single or in a committed relationship, we could all use a little help decompressing during the scurry of the holidays. Emily reminds us why it's important to prioritize pleasure, maintain intimacy with your partner and treat yourself to something special this time of year. She and Anderson also discuss a new study on the texting habits of douchebags. Could your use of terminal punctuation be sending the wrong message to potential suitors?
If you're planning on giving the gift of orgasm this Christmas, Emily has suggestions for the perfect vibrating present for the lady in your life. She also offers advice to help a listener communicate her foreplay needs to her husband and gives tips to help a woman, who happens to be the "other woman", find ways to leave her toxic extramarital affair behind.
Holidays can be taxing, and can often feel like more trouble than they're worth, but fear not! In this podcast, Emily has all the helpful hints and valuable tools you need to keep your stress level low and your sex life hot this winter. Tune in!
Can't get enough SexWithEmily?
Subscribe on iTunes and never miss your bi-weekly Sex With Emily podcast…
Special discounts for listeners of Sex With Emily:
Use coupon code Emily for 15% off at Good Vibrations and coupon code EMILY for 20% off my Aromatherapy Massage Candle and DownUnder Comfort at Emily& Tony.
Go to Promescent to make love longer.
Increase your stamina with the #1 selling sex toy for men, Fleshlight. Use code: Emily to get a FREE bottle of Fleshlube with your purchase.
Unlock the secret to your orgasmic potential with the one-of-a-kind Sybian ($75 off with code: EMILY75)
Tighten and tone your pelvic floor for stronger orgasms with the Intensity by Pour Moi
Stop by Hustler Stores in Hollywood or the closest store near you for all your kinky needs- Don't forget to mention "Sex With Emily" at the counter for 20% off your purchase.