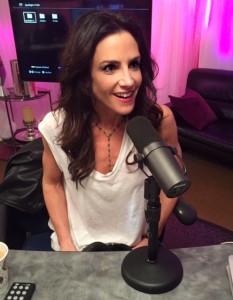 Did you miss your chance to celebrate Steak & BJ Day the right way? Consider this show your own personal blow job workshop! Emily shares some of her best tips for going down, including some juicy oral sex tricks you're not trying but totally should be, and answers a couple of your emails on sex and relationships (and sexless relationships).
Variety is the spice of life, and is definitely the key to a mind-blowing blow job. With the help of "Married Anderson", Emily shares some advice on how to mix up your BJ routine and use all the tools at your disposal, including your lips, tongue, hands and possibly even a toy or two! Anderson speaks up on behalf of penises everywhere to tell you which nerve-packed spot you should definitely be pleasuring – Ladies, prepare to meet your new best frenulum!
Want to know what makes for the world's best BJ? How about the worst? Emily reads a couple scintillating blow job stories submitted by real-life listeners, and Anderson shares the most horrific oral sex tale he's ever heard.. You'll never eat Tic Tacs the same way again! Emily also coaches a listener through her oral sex insecurities and answers a question about a lack of sexual chemistry – Can a relationship survive without that spark?
From the deep throat to the hummer and everything in between, this show has the tips and tricks you need to make every day your very own BJ day! Don't miss it – It's going to blow (your mind)!
Can't get enough SexWithEmily?
Subscribe on iTunes and never miss your bi-weekly Sex With Emily podcast…
Special discounts for listeners of Sex With Emily:
Use coupon code GVEMILY20 for 20% off at Good Vibrations and coupon code EMILY for 20% off my Aromatherapy Massage Candle and DownUnder Comfort at Emily& Tony.
Go to Promescent to make love longer.
Increase your stamina with the #1 selling sex toy for men, Fleshlight. Use code: Emily to get a FREE bottle of Fleshlube with your purchase.
Save 10% off beautiful high-quality sex toys at Je Joue when you use code: Emily
Stop by Hustler Stores in Hollywood or the closest store near you for all your kinky needs- Don't forget to mention "Sex With Emily" at the counter for 20% off your purchase.