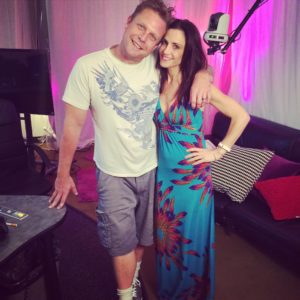 This show is all about having great sex and great relationships, no matter what you're packing down below. Emily and Anderson swap sexting stories, answer listener emails, discuss topics such as lingerie, lesbians and what NOT to do at a strip club.
But first, Emily shares tales from the Sex With Emily workspace and describes recent Facebook developments, including the dick pics that keep popping up in her inbox. Whether it's flirting for the new age or a naughty form of foreplay, that's not the kind of feedback we're looking for, fellas!
Up next is sex in the news: First we hear sex tips from the man with no penis (Don't worry, guys, this story has a happy ending!) Then there's the guy who called the cops when a stripper refused to have sex with him – He didn't get his happy ending, but he did get arrested for solicitation.
Then the duo gets in to some listener emails! Emily gives tips to help navigate the big penis problem and addresses an interesting question: Why does a man gain penis length when he loses weight? Dr. Drew Pinsky chimes in to explain the FUPA phenomenon. Could this be the start of a diet revolution?
Emily gives recommendations for the best sex toys to weather a long-distance relationship and addresses a couple of stamina questions. Can a man speed up his refractory period? And how do you help a guy who can't keep it up. Plus, advice for picking the best Fleshlight for you! Emily's intern explains the appeal, from a girlfriend's perspective, and Anderson envisions the Fleshlight of the future (Hint: Holographs are involved). Then on to answer Anderson's hard-hitting question: What's the craziest email Emily's gotten lately?
Whether you have a big penis, a shy penis, or no penis at all, you can achieve sexual intimacy and have the sex life you've always wanted If the guy with no penis can, you can, too! All this and more in the latest Podcast!
Special discounts for listeners of Sex With Emily:
Use coupon code GVEMILY20 for 20% off atGood Vibrations and coupon code EMILY for 20% off my Aromatherapy Massage Candle and DownUnder Comfort at Emily& Tony
Go to Promescent to make love longer.
Increase your stamina with the #1 selling sex toy for men, Fleshlight.
Stop by Hustler Stores in Hollywood or the closest store near you for all your kinky needs- Don't forget to mention "Sex With Emily" at the counter for 20% off your purchase.