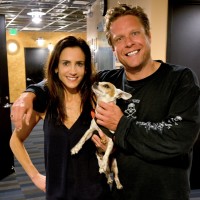 In today's Podcast, Emily and Anderson are teaming up to help you succeed in the dating game, and satisfy your sexual needs. They answer listener emails and cover some of the hot new sex and dating topics. Want to know which country is experiencing some STD difficulties? Or what card to get your mistress for you affair-versary? They've got the answers, and then some!
Before they get into some sex in the news, Emily gives us some news of her own: She's ready to have a life again, have fun, and best of all, jump back into the dating world. Which means plenty more stories for your listening pleasure.
Emily divulges details from a bizarre blind date, which provides great tips for guys on what NOT to do. If you manage to break two major dating rules in one hour, sorry bro, but it's not happening.
Emily and Anderson debate the hotness scale, and Anderson asks the question on all guys' minds: How low would Emily go to meet a GOOD guy? Would she date a "7"? Maybe a "4"? Emily's answer might surprise you.
Emily busts open some common dating misconceptions, and discusses what women really want. News flash guys – You don't need a perfect body or a beefy bank account to get the girl. What we really want is someone with a big, sexy brain!
Next they help a few listeners with some bedroom dilemmas, including a man whose wife is never in the mood, and a woman who can't orgasm with her partner. Plus, how do you deal when your clitoris can't take the pressure? Emily explains why sometimes you have to show, not tell, to get the sex you want.
From the biggest dating no-no's to the best places to hook up to the worst place to have sex without a "jimmy", this show is full of helpful tips to help you tackle some of your biggest dating and relationship trials.
Send your questions, comments & fantasies to: feedback@sexwithemily.com,
Can't get enough SexWithEmily?
Subscribe on iTunes and never miss your bi-weekly Sex With Emily podcast…
Special discounts for listeners of Sex With Emily:
Use coupon code GVEMILY20 for 20% off atGood Vibrations and coupon code EMILY for 20% off my Aromatherapy Massage Candle and DownUnder Comfort at Emily& Tony
Go to Promescent to make love longer.
Increase your stamina with the #1 selling sex toy for men, Fleshlight.
Stop by Hustler Stores in Hollywood or the closest store near you for all your kinky needs- Don't forget to mention "Sex With Emily" at the counter for 20% off your purchase.