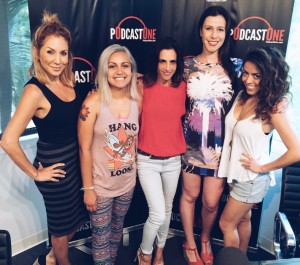 August is Anal Pleasure Month and Sex With Emily is celebrating on today's show with a panel of women who are ready to talk about all things sex including the naughty nitty gritty of backdoor pleasure. Emily is joined by hosts of the UCB show LadyFreak, Jennifer Bartels and Grace Parra, Assistant Producer Laurie, and her good friend Kim to talk anal, oral, orgasms and so much more!
This group of ladies have a wide range of sexual experience to share and nothing is off limits in this steamy sex talk session. Find out how to masturbate without using your hands and why every single one of these ladies loves to give a BJ's! They discuss everything from ball play to sex toys to pubic grooming and of course, anal sex.
Everyone thinks about it, some of us do it, and a lot of us love it. Kim, Laurie, Grace and Jen all have different backdoor histories. They compare perceptions and preferences and share their horror stories and successes. Have you ever wanted to knock on your guys backdoor? How can you know if he would be open to the idea? Emily offers tips and tricks for introducing the idea of backdoor play to your man in a way that won't send him running for the hills!
And of course, this panel of ladies each divulge their biggest turn-ons, universal turn offs, and their number one sex tips. Whether you're into talking dirty, ear licking or hair pulling, this show has something everyone can relate to.
Want to know more about the lovely ladies in this podcast? Follow them on social media!
Grace: 
IG & Twitter: @GraceParra360
Jen:
IG & Twitter: @JenBGiggles