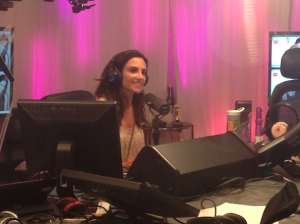 This show is all about the importance of kissing. It's the most exciting part of any first date and one of the easiest ways to amplify your sex life. From the first light peck to the full body make out, Emily tells you how to kiss like a pro and sweep any partner off of their feet.
We tend to think of kissing as a warm up activity, so when we settle into a long term relationship, it's the first thing to go. Emily explains why kissing is more than just a warm up and tells you how a little mouth-to-mouth could be the secret to a deeper love connection.
Emily and Anderson discuss some important "frenching" do's and don'ts, from tongue wrestling matches to the dreaded face rape. The two swap awkward first kiss stories that will make you glad you're passed the days of sloppy mouths and tongue swirls.
Then it's on to some "Kissing 101"! Emily gives you the simple steps to delivering one hell of a kiss and answers some common kissing questions: How much is too much in the tongue department? How do you pull off the lip nibble? And what the heck do you do with your hands? Emily shares her number 1 trick for creating your own perfect kiss!
Also discussed: According to an OKCupid study, which US states value sex over love? Maybe Ohio is for lovers, but you'd be surprised what small towns are online dating for the nookie. Emily also answers some listener emails, including how to stay hard during long foreplay sessions and what to do when pornography becomes a problem.
You might think you've got it down, but this show gives you those extra tips you need to become a master of the tongue tango.
Can't get enough SexWithEmily?
Subscribe on iTunes and never miss your bi-weekly Sex With Emily podcast…
Special discounts for listeners of Sex With Emily:
Use coupon code GVEMILY20 for 20% off at Good Vibrations and coupon code EMILY for 20% off my Aromatherapy Massage Candle and DownUnder Comfort at Emily& Tony.
Go to Promescent to make love longer.
Increase your stamina with the #1 selling sex toy for men, Fleshlight. Use code: Emily to get a FREE bottle of Fleshlube with your purchase.
Stop by Hustler Stores in Hollywood or the closest store near you for all your kinky needs- Don't forget to mention "Sex With Emily" at the counter for 20% off your purchase.