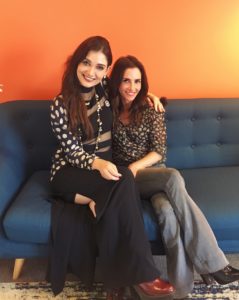 Dating: How do any of us do it? And more importantly, how do we do it right? On today's show Emily is joined by writer, talk-show host, and overall badass Zara Barrie to unpack the hot topic of dating in the digital age — the good, the bad, and what it means for us as we try to find our match.
Are you experiencing dating burnout? Not sure how to initiate casual sex? How do you find the silver lining from your break up? Emily and Zara discuss tips to help you get out of your dating funk, meet the right people and feel good doing it. And of course, there's no shortage of hot sex tips, from breast play to teasing to the oral sex secrets you need to know.
From toxic relationships to dating yourself first to lesbian sex myths debunked, this show is jam-packed with life, love and sex lessons. Don't miss it!
Check her out on Instagram, Twitter & Facebook.
Click Here to subscribe to our weekly newsletter.
Special discounts for listeners of Sex With Emily:
Enhance your oral sex experience and become the dessert with JO's flavored Gelato lubricants…
Use coupon code Emily for 15% off at Good Vibrations and coupon code EMILY for 20% off at Sportsheets.com
Tighten and tone your pelvic floor for stronger orgasms with the Intensity by Pour Moi — My Kegel Camp app will help you stay on track!
Increase your stamina with the #1 selling sex toy for men, Fleshlight or check out the only FDA-approved delay spray Promescent to make love longer…
Explore the tantalizing world of prostate pleasure with the Black Pearl from Vibratex OR revisit an old classic, the Cadillac of all vibrators, the Magic Wand Original.