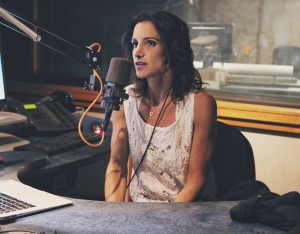 Today on Sex With Emily we're tackling the issues of mixed signals, the missing orgasm, and mischievous sex fantasies. How do you manage problems in the bedroom and keep your relationship in good standing? Emily is here to help!
But first, find out about the top and bottom sex positions for women's pleasure, and shatter your misconceptions about missionary position with tips to make it more exciting than it's ever been! Also, hear a shocking Sex in the News story about a man whose sister-in-law mistakenly went home with a mold of his member.
Then, Emily answers some of your pressing love and sex questions. Are you getting mixed bedroom signals from your significant other? Having trouble finding your orgasm? Wondering how to take your love of threesomes to the next level without hurting your partner? Learn how to navigate mismatched libidos, carefully communicate your sexual needs and put those potentially problematic fantasies to bed in order to keep your relationship safe.
Whether you're running into some sexual hang ups in your marriage or you're ready to make new discoveries in the bedroom, this podcast has the answers for you! From vibrating hotel beds to dildo gifts that turn heads, this Sex With Emily episode has it all. Don't miss it!
Can't get enough SexWithEmily?
Subscribe on iTunes and never miss your bi-weekly Sex With Emily podcast…
Special discounts for listeners of Sex With Emily:
Use coupon code Emily for 15% off at Good Vibrations and coupon code EMILY for 20% off my Aromatherapy Massage Candle and DownUnder Comfort at Emily& Tony.
Go to Promescent to make love longer.
Increase your stamina with the #1 selling sex toy for men, Fleshlight. Use code: Emily to get a FREE bottle of Fleshlube with your purchase.
Stop by Hustler Stores in Hollywood or the closest store near you for all your kinky needs- Don't forget to mention "Sex With Emily" at the counter for 20% off your purchase.