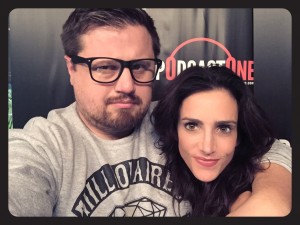 You've got sex questions; Emily and Menace have answers.. And then some! From the politics of sex and dating in the workplace to a quest for the missing orgasm, in this show Emily's answering your emails and giving you tips to ease your sexual anxieties, and help you step things up in the bedroom.
Not ready to jump straight into intercourse after an extended absence from the dating scene? Emily and Menace offer advice for a listener caught in an oral sex limbo, and stress the importance of factoring in your own pleasure. They also hear from a listener who is ready to take responsibility for her own orgasm. Emily shares some of her top picks for multi-orgasmic sex toys to get her started, as long as she promises to name her first orgasm "Emily".
Emily answers a question from a cunnilinguist in training, and she and Menace discuss a listener's predicament with dating in the workplace – Is it possible to keep business and pleasure separate? The two weigh in.
Also discussed: One very sassy swedish pop star who proved just how accommodating condoms can be. And how did a husband's good intentions result in a "noxious dildo blaze"? She and Menace share some fresh "Sex in the News" for 2015, and Emily shares her secret for the sexiest Valentines Day – Hint: It involves a suitcase full of sex toys.
This podcast has tons of entertaining anecdotes and helpful tips to help you have great sex and relationships (with yourself, or otherwise), so get ready!
Can't get enough SexWithEmily?
Subscribe on iTunes and never miss your bi-weekly Sex With Emily podcast…
Special discounts for listeners of Sex With Emily:
Use coupon code GVEMILY20 for 20% off at Good Vibrations and coupon code EMILY for 20% off my Aromatherapy Massage Candle and DownUnder Comfort at Emily& Tony.
Go to Promescent to make love longer.
Increase your stamina with the #1 selling sex toy for men, Fleshlight. Use code: Emily to get a FREE bottle of Fleshlube with your purchase.
Save 10% off beautiful high-quality sex toys at Je Joue when you use code: Emily
Stop by Hustler Stores in Hollywood or the closest store near you for all your kinky needs- Don't forget to mention "Sex With Emily" at the counter for 20% off your purchase.