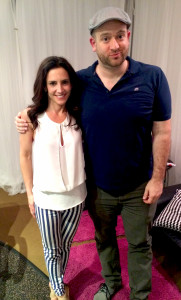 This week Emily sits down with Caleb Bacon, Host of the Man School Podcast and an LA-based writer, to talk relationship tips, Kegels for men and how getting comfortable in his own skin led him to proposing to his love just last week!
Emily also answers emails from you including how to give a better BJ even with that pesty cotton mouth, how guys can go after the woman they want, even if she seems out of his league. How complimenting and appreciating your partner is one of the main tips to a successful relationship. Plus, what to do if your boyfriend comes home from a "Work trip" and his penis smells like cheese (We can't make this stuff up.)
Also, wonder what sex toy Emily wishes she could give to everybody? Emily answers these questions and more on this weeks podcast.
Special discounts for listeners of Sex With Emily:
Use coupon code GVEMILY20 for 20% off at Good Vibrations. Use coupon code EMILY25 for 25% off at Crazy Girl, and coupon code EMILY for 20% off my Aromatherapy Massage Candle and DownUnder Comfort at Emily & Tony. Go to Promescent to make love longer. Increase your stamina with the #1 selling sex toy for men, Fleshlight.