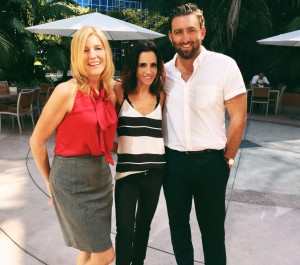 On today's show, Emily welcomes hosts of Playboy Radio's popular "Ask the Doc" podcast, Chad Braverman and Sunny Rodgers. Emily, Sunny and Chad jump straight into swapping secrets and stories from the sex industry, and share tips on how to step up your sex toy game for maximum pleasure!
If there's one thing that this trio of sex aficionados have in common, it's their expertise in the area of sex toys, from personal favorites to hottest up-and-coming toys and helpful hacks. Chad and Sunny divulge the influences of their respective upbringings to Emily and the three trade anecdotes about working in and around the sex industry. Plus, Emily shares some of her sex accessory storage woes and Chad offers the male perspective on bringing toys into the marital bed.
Then, the gang answers a couple emails from listeners who are hitting some sexual speedbumps in their otherwise wonderful relationships. Are you in quest for a quieter clitoral vibrator to use during sex? Are you bothered by your boyfriend's back hair? How do you bring these topics up to the ones that you love? Tune in to learn how to navigate these issues and make your success in sex match your luck in love!
This episode of Sex With Emily is jam packed with fun toy tidbits and silly sex stories. From Ben-wa balls to Man-ginas to pocket rockets and rabbits, this is a show you don't want to miss!
Want more from Sunny & Chad?
Tune into their "Ask the Doc" radio show, broadcasting live on Playboy Radio every Friday between 11am and 12pm pst!
And…
Do you want to hear your number one sex question answered on the podcast? We're having a call-in show October 7th, so check Facebook and Twitter the morning of for the coveted call-in number. Can't wait to talk to you soon!