Once upon a time, a sex toy was something to hide. Partially because of stigma, partially because of crude design. Who among us can forget our initial shock, the first time we saw a foot-long, vein-covered dildo?
Today, things are different. The sex toy market – expected to reach $63 billion by 2030 – is evolving, and so too are the aesthetics. Sex toys aren't just prettier…some are downright gorgeous. Almost as if they were made to be seen. And why shouldn't they? Sexual pleasure isn't shameful. Time to bring toys out of the shadows.
Since starting the podcast, I've taken stock of many, many sex toys. There are more brands than ever, with body-intuitive engineering, multi-functionality, and options for partner play. But a few brands in particular – LELO, for example – have a thing for beauty. Maybe because discovering the intricacies of your body is inherently beautiful? Maybe because elevated design creates a better shopping experience? Maybe because we're all tired of burying our toys in a blind panic when company comes over? 
Whatever the reason, these are toys you won't want to tuck away. On the contrary, you can display them proudly: both to normalize sex toy usage, and also, because they'll look lovely with your existing decor. 
To stimulate the clitoris with stylish precision:
The DOT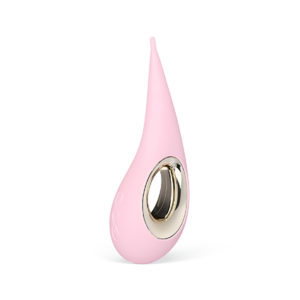 Let's take a moment to appreciate what we're looking at here. Is it a trendy pendant? No: it's a massager that's going to give you multiple orgasms, y'all. 
What I appreciate about the DOT is the way it's expressed its functionality into aesthetics. The teardrop shape culminates in a precise tip, which oscillates according to your preferred power setting. Why is that important? Because traditional vibes with a larger surface area stimulate lots of nerve endings all at once. And that can be cool, but, it can also numb out your clitoris pretty quickly. Conversely, the tip of the DOT stimulates very small areas very intensely, leaving lots of nerve endings untouched – so that by the time you get to them, the sensations are completely fresh. 
Back to the design: we're talking pastel, we're talking metallic, we're talking small enough to be unobtrusive during partner play. And honestly, it's just real cute? Like you could put it on your bookshelf next to a geode and a candle, and it would look right at home.
To massage the prostate with a sex toy of steel: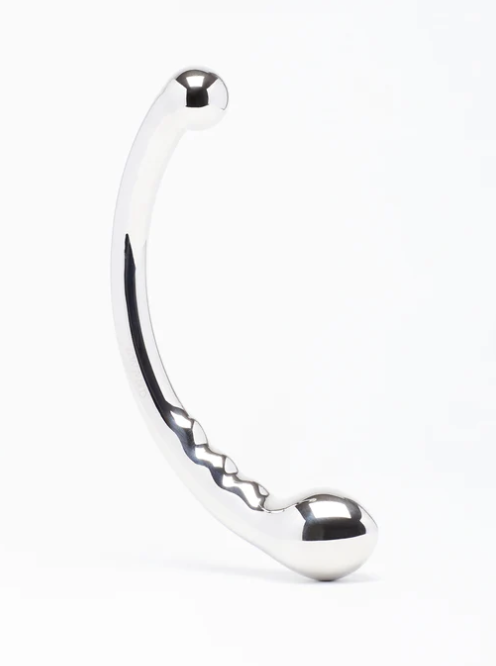 Let's pour one out for penis owners of the past, who didn't have access to sex toys / didn't realize they could use sex toys. Folks: it's a new day. 
No matter your genitals, you can (and should) invest in a toy. For penis owners, prostate play creates the kinds of orgasms vulva owners get from their G-spot: deep, internal, and very intense. If you've never had a prostate orgasm before, expect it to feel twice as powerful as a penile orgasm. That's where Le Wand's Stainless Steel Hoop comes in, with design that suggests functionality, rather than the other way around. 
Constructed out of stainless steel, this is a toy that – quite literally – looks like a sculpture. It's a 10" arch, and offers a weightier feel than silicone-based prostate massagers – meaning, this delivers some of the heaviest pressure to your P-spot. Use it during solo sex, and here's a pro tip…chill it first, for fun temperature play. Because it's so discreet-looking, it won't look like you've got a sex toy in the fridge. More like an artful hand weight.
To stimulate the clitoris and G-spot like a futuristic sex alien: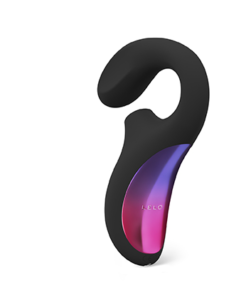 The ENIGMA
Most dual-stimulation toys for vulva owners are a riff on the Rabbit: a toy category that features a small vibrator for the clitoris, and a larger vibrator for the G-spot. And don't get me wrong, they feel wonderful. But the ENIGMA did something clever: they took the technology of Womanizer-esque clitoral stimulators, which mimic oral sex through gentle suction, and added sonic waves to create a "fluttering" sensation on the clitoris. Then, dear Reader, they added a G-spot vibrator with a super flexible shaft. You can uncurl it to be almost perfectly straight, and find your perfect curve – so that your sweet spot is properly stimulated. Net net: it feels like you're getting exquisite oral sex with this toy…while being penetrated. 
Google "Lelo Enigma" and you will find countless, breathless reviews of its efficacy. Here's one: it "makes masturbation feel spa-like, extraterrestrial, and, at the same, like oral sex with a familiar, skilled partner." And! It's real quiet. But looks-wise, it comes in either magenta, or magenta and black, and resembles a question mark. (Because it's an enigma.) This is a sex toy I could easily see being displayed next to your chrome flower vase, your pop art pen holder – basically, any corner of the room that says, "this is the where the future lives." 
To enjoy anal play with the spirit of a unicorn:
b-Vibe Unicorn Plug Limited Edition Set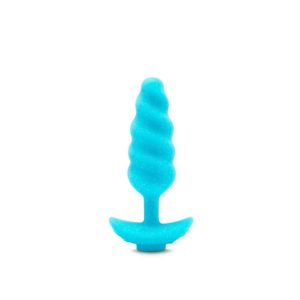 Sex toys that channel Lisa Frank realness? Now we're talking. The core of this kit is an anal plug attached to a kicky, rainbow unicorn tail. And because the plug itself resembles a unicorn horn, it doesn't exactly scream "sex toy" – rather, you could have this out on your desk next to your Marvel figurines, and peeps would think: "what a fanciful, whimsical office!" 
If you ~whimsically~ decide to have anal play later on, the features of this toy are actually pretty robust. The plug vibrates through 10 levels of intensity, and the textured construction is perfect for stimulating the oh-so-sensitive nerve endings in your anal cavity. Also, I appreciate that this is a medium-size plug: still a fairly nice option for beginners, but still full enough for seasoned anal players. Bonus…the set comes with a Guide to Anal Play, so that if you are a beginner, you get some guidance on how to best prepare and enjoy yourself.  
Once you've stepped into the world of design-forward sex toys, you quickly realize what you've been missing (cuteness). These four toys are some of my favorite for reminding all of us that sexual pleasure isn't something to hide away…it's something to celebrate, with actual craftsmanship. Why not make your next sex toy a thing of beauty?