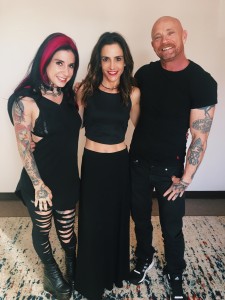 Grab your halos, ladies and gents! On today's show, Emily and co-host Joanna Angel are joined by porn pioneer and trans activist Buck Angel, and things are about to get wild!
Buck opens up about his incredible journey as a "man with a pussy," from finding his early Girl Scout encounters to breaking the mold with trans male porn, to learning to love his vagina! The gang talks penis envy, sexual empowerment and Buck's new groundbreaking sex toy, before tackling some of your top sex and relationship dilemmas!
Whether your divorce killed your mojo, you've got the perfect relationship (minus the sizzle in the sack), or you're curious to hear from one of the most respected trans educators around, it's time to listen to the angel(s) on your shoulder and tune in!

Special discounts for listeners of Sex With Emily:
Enhance your oral sex experience and become the dessert with JO's flavored Gelato lubricants…
Use coupon code Emily for 15% off at Good Vibrations and coupon code EMILY for 20% off at Sportsheets.com
Whip those pelvic floor muscles into shape for stronger orgasms with my Kegel Camp app.
Increase your stamina with the #1 selling sex toy for men, Fleshlight or check out the only FDA-approved delay spray Promescent to make love longer…
Looking for a new vibrating best friend? Find somebunny to love at The Rabbit Company! Use code EMILY at checkout…
Explore the tantalizing world of prostate pleasure with the Black Pearl from Vibratex OR revisit an old classic, the Cadillac of all vibrators, the Magic Wand Original