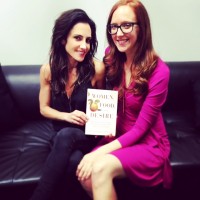 Are your issues with self-esteem and body-image weighing down your sex drive?
In this show, Emily addresses some of these key sex-killing issues, and shares tips to help you get your sex life right back where you want it. Special guest Alex Jamieson, author of the book Women, Food and Desire, stops by the studio to weigh in on the curious relationship between body image, diet and desire, for both men and women.
Following a tough divorce, and a dramatic break up with the vegan lifestyle, Alex recounts her own struggles with self-confidence, and shares how a mix of diet change and dating helped her get her mojo back. 18 months and 100 first dates later, she shares her tip for rediscovering your desire: Try on different men (and different foods) to see what feels best!
Also, a new study has proven what we already know to be true: Sexless marriages are on the rise. Emily explains why married couples should make a sex emergency plan, so they will know what to do when a sexual drought strikes. She also gives guidance for a listener whose relationship has lost it's sexual spark.
This episode is full of tips to help you bring back the fire into your sex life. Don't miss it!
P.S. Want to know more about Alex and her work with women, food and desire? Check out her popular podcast, The Crave Cast!
Can't get enough SexWithEmily?
Subscribe on iTunes and never miss your bi-weekly Sex With Emily podcast…
Special discounts for listeners of Sex With Emily:
Use coupon code GVEMILY20 for 20% off at Good Vibrations and coupon code EMILY for 20% off my Aromatherapy Massage Candle and DownUnder Comfort at Emily& Tony.
Go to Promescent to make love longer.
Increase your stamina with the #1 selling sex toy for men, Fleshlight. Use code: Emily to get a FREE bottle of Fleshlube with your purchase.
Save 10% off beautiful high-quality sex toys at Je Joue when you use code: Emily
Stop by Hustler Stores in Hollywood or the closest store near you for all your kinky needs- Don't forget to mention "Sex With Emily" at the counter for 20% off your purchase.