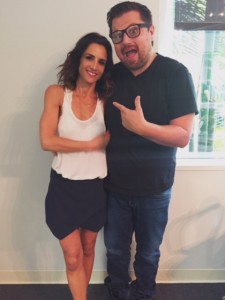 All September long, Sex With Emily is taking us back to sex ed basics, and on today's show Emily is dishing out helpful handjob hacks and tips on how to give a better blowjob. Also, learn how to keep your sexual rhythm on beat and step up your flirting game while you're at it!
But first, Emily and Menace discuss PornHub's new university scholarship program in Sex in the News; it's not just for porn stars! Menace also weighs in on the ongoing Ashley Madison scandal, and Emily shares a story about her most recent sex injury… It happens to the best of us.
Then, Emily's onto your top sex questions, and she's handing out plenty of sex-tra credit. Are you falling short when it comes to handies and BJs? Having trouble finding your phallic foreplay forte? Whether you're struggling to find your sexual confidence or you've just lost your sexual rhythm, Emily gives detailed explanations of specific steps you can take to remedy these carnal conundrums. Also, learn how to turn up your partner's volume in bed and get expert pointers on flirting at the gym!
Whatever your sexual stumbling block, this show is sure to teach you a thing or two. Learn how to blow like a pro and handle him like a hotshot on this episode of Sex With Emily.
Can't get enough SexWithEmily?
Subscribe on iTunes and never miss your bi-weekly Sex With Emily podcast…
Special discounts for listeners of Sex With Emily:
Use coupon code Emily for 15% off at Good Vibrations and coupon code EMILY for 20% off my Aromatherapy Massage Candle and DownUnder Comfort at Emily& Tony.
Go to Promescent to make love longer.
Increase your stamina with the #1 selling sex toy for men, Fleshlight. Use code: Emily to get a FREE bottle of Fleshlube with your purchase.
Stop by Hustler Stores in Hollywood or the closest store near you for all your kinky needs- Don't forget to mention "Sex With Emily" at the counter for 20% off your purchase.