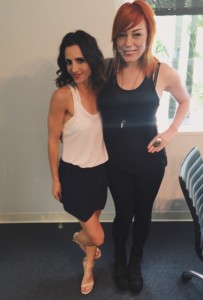 On today's show, Emily welcomes Suicide Girl and unapologetic sex-enthusiast Moxi Cox to talk everything from sex toys to nontraditional relationships to new levels of kink!
When she's not posing for the Suicide Girls website, which features sex-positive, alternative, pin-up style women, Moxi is also blogger, sex educator, radio personality and psychology student. She chronicles her journey from sexually conservative beginnings to owning her own unique brand of sexuality, largely through her discovery of the world of nude modeling.
She, Emily and Menace share experiences and opinions about a bevy of sex toys, from bullets to strap-ons to electrosex devices. Moxi offers interesting insight on how to find success in an open relationship and how understanding the psychology of jealousy can curb its negative effects your love life.
Moxi also helps Emily answer a listener email about how to get your partner to turn up the kink in the bedroom. Are you getting sick of slow, sweet-tempered sex?  Would you like to take your sex life from fluff to rough? Moxi has the tips to get the hard-lovin' you've had a hankering for. 
This episode of Sex With Emily is your one-stop, fully stocked hour-long block of hot sex talk with Moxi Cox. From favorite sexual experiences to favorite porn picks, and even her favorite way to orgasm, this is a whole lotta show that you don't want to be left out of!
Want More Moxi Cox?
Follow her on Twitter: @MoxiSuicide and Instagram: @MoxiSuicide
Check out her blog at MoxiCox.com
Tune into Suicide Girls Radio live every Wednesday from 8-9pm at TradioV.com