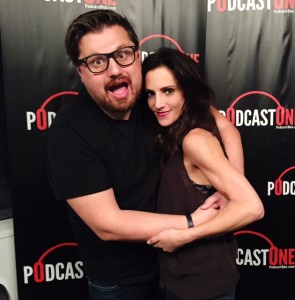 On today's show Emily is joined by Menace and together they are answering your emails. Topics include lingering ex-girlfriends, long-distance sex, and how to sex up a sexless marriages. Plus, Emily reveals the best kind of nookie you're not having, but could be!
But first, Emily's friend Josh from CraftVapery.com stops by the studio to reveal the link between vaping and sexual stamina. Emily and Josh discuss the benefits of switching to E-cigs. After all, the only smoke that should be in the bedroom is that of you and your partner after super hot sex.
Then it's on to listener emails. Emily and Menace debate the Ex-Factor. Can two exes ever equal friends? It's a tricky line to walk, but Emily gives you the rules for staying friends with the Ex. Also, Emily explains why an active sexual fantasy life is an important thing to have and gives tips for how to make a long distance relationship work. It's a bit difficult, but totally do-able.. With the right motivation, of course!
Emily and Menace tackle some scintillating sex in the news. Want to know what sex questions people Google the most? Emily has the answer, and also shares her  suspicions over a recent survey – Are most people in their early 20's really that satisfied with their sex lives? Or as Menace points, are they still too young to really know what makes great sex?
The show wraps up with some great news: Emily will be hosting the People's Podcast Awards with the one and only Dennis Miller in Las Vegas! Keep checking in for more details.
Whether you're craving more sex, better sex, or sex with someone across the country, this show has the advice you need to make it happen. All of this and so much more on the latest episode of Sex With Emily!
Can't get enough SexWithEmily?
Subscribe on iTunes and never miss your bi-weekly Sex With Emily podcast…
Special discounts for listeners of Sex With Emily:
Use coupon code GVEMILY20 for 20% off at Good Vibrations and coupon code EMILY for 20% off my Aromatherapy Massage Candle and DownUnder Comfort at Emily& Tony.
Go to Promescent to make love longer.
Increase your stamina with the #1 selling sex toy for men, Fleshlight. Use code: Emily to get a FREE bottle of Fleshlube with your purchase.
Save 10% off beautiful high-quality sex toys at Je Joue when you use code: Emily
Stop by Hustler Stores in Hollywood or the closest store near you for all your kinky needs- Don't forget to mention "Sex With Emily" at the counter for 20% off your purchase.
PS. As a special gift for Sex with Emily listeners, Craft Vapery is offering 20% off subscriptions and 10% off all shop orders through March 31st with the promo code NAUGHTYEMILY!