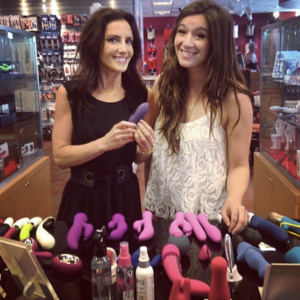 It's that magical time of year again – Sex toy review time!
In this show Emily gives you her picks for the best sex toys on the market, and gives you an in-depth review of her newest favorite! She also tackles some of your hottest sex questions on vibrators, backdoor play, friends with benefits, and the politics of trading sex for gifts. Plus, what unexpected texting habit might lead to you getting lucky..
Want to know which high-quality sex toy will turn your penis into a human vibrator? Emily and her assistant Madison share their separate, but equally mind-blowing, experiences with the amazing Mio by Je Joue and tell you why this deep-rumbling penis ring is a must-have for you goodie drawer! Plus, Emily shares her recommendations for the best starter sex toys and gives a crash course in G-Spot stimulation. Watch the video stream for a full demonstration.
Emoji – Cute and flirty, or social suicide? Well according to what is possibly the most important study of the year thus far, those smileys and hearts are not just for teenage girls – Emily reveals how emoji users came out on top in 2014 (insert winky face emoji here).
Whether you're looking for a toy to share with your partner, one to keep for yourself, or one to help you discover new realms of pleasure, this show's got the best sex toys for all occasions! This is one sex toy review podcast that you do not want to miss..
Can't get enough SexWithEmily?
Subscribe on iTunes and never miss your bi-weekly Sex With Emily podcast…
Special discounts for listeners of Sex With Emily:
Use coupon code GVEMILY20 for 20% off at Good Vibrations and coupon code EMILY for 20% off my Aromatherapy Massage Candle and DownUnder Comfort at Emily& Tony.
Go to Promescent to make love longer.
Increase your stamina with the #1 selling sex toy for men, Fleshlight. Use code: Emily to get a FREE bottle of Fleshlube with your purchase.
Save 10% off beautiful high-quality sex toys at Je Joue when you use code: Emily
Stop by Hustler Stores in Hollywood or the closest store near you for all your kinky needs- Don't forget to mention "Sex With Emily" at the counter for 20% off your purchase.
PS. As a special gift for Sex with Emily listeners, Craft Vapery is offering 20% off subscriptions and 10% off all shop orders through March 31st with the promo code NAUGHTYEMILY!