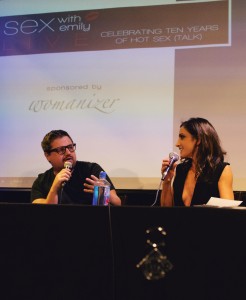 In today's show, Emily and Menace are tackling your top sex and relationship questions. Are you having trouble getting your partner to be more sexually adventurous? Has the lack of oral sex in your relationship left you with resentment? Are you ready to start taking the lead in the bedroom, but don't know where to start? Emily has the answers you're looking for!
But first, a Sex in the News story on mistress-shaming opens up a discussion on infidelity. It's no secret that cheating is one the rise — Are daters getting more unfaithful or are there just more ways to get caught? Menace and Emily debate how social media is contributing to the cheating curve, and Menace explains why the iCloud is a cheater's worst enemy.
Then it's on to your emails! Whether you're looking to explore new bedroom activities, are feeling cheated by your partner's oral sex embargo or are trying to channel your inner sex goddess, Emily and Menace cover the many ways to better communicate your sexual needs to your partner. They also tackle a question on lady-scaping — Do men really trip out over a little stubble? Menace provides the male perspective on down there hair and Emily shares tips to help ensure that your pubic grooming experience goes smoothly.
From oral sex ultimatums to bedroom deal breakers, this podcast helps you navigate the many pitfalls that couples encounter on the road to sexual satisfaction. Learn how to open up the sex conversation with your partner and find out why cheaters truly never prosper in this episode of Sex With Emily.
Can't get enough SexWithEmily?
Subscribe on iTunes and never miss your bi-weekly Sex With Emily podcast…
Special discounts for listeners of Sex With Emily:
Use coupon code Emily for 15% off at Good Vibrations and coupon code EMILY for 20% off my Aromatherapy Massage Candle and DownUnder Comfort at Emily& Tony.
Go to Promescent to make love longer.
Increase your stamina with the #1 selling sex toy for men, Fleshlight. Use code: Emily to get a FREE bottle of Fleshlube with your purchase.
Unlock the secret to your orgasmic potential with the one-of-a-kind Sybian ($75 off with code: EMILY75)
Tighten and tone your pelvic floor for stronger orgasms with the Intensity by Pour Moi
Stop by Hustler Stores in Hollywood or the closest store near you for all your kinky needs- Don't forget to mention "Sex With Emily" at the counter for 20% off your purchase.