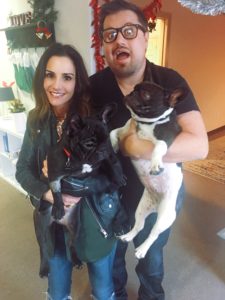 We talk A LOT about issues surrounding the female sex drive, but we rarely discuss what it's like for the person in the passenger seat. On today's show, we're unpacking this topic of low libido from a different angle and we've got Dr. Ian Kerner on the line to help provide a little insight.
What happens when you're on the other side of a mismatched libido? How can men help their partners to spark that desire? Ian shares his expertise on all things arousal, intimacy and female pleasure, and reveals how he helps couples overcome these roadblocks. Emily and Menace also address your emails on rough sex, changes in libido and foot appreciation.
No matter what problems you encounter between the sheets, this podcast is sure to have the answers you're looking for! Don't miss it..

Learn more about Dr. Ian Kerner here! 
Click here to find out what Fiera can do for your sex life!
Click Here to subscribe to our weekly newsletter.
Special discounts for listeners of Sex With Emily:
Clean your toys like a grown up with UVee, available now on Kickstarter.  Don't miss early adopter prices and bundles!
Enhance your oral sex experience and become the dessert with JO's flavored Gelato lubricants…
Use coupon code Emily for 15% off at Good Vibrations and coupon code EMILY for 20% off at Sportsheets.com
Tighten and tone your pelvic floor for stronger orgasms with the Intensity by Pour Moi — My Kegel Camp app will help you stay on track!
Increase your stamina with the #1 selling sex toy for men, Fleshlight or check out the only FDA-approved delay spray Promescent to make love longer…
Explore the tantalizing world of prostate pleasure with the Black Pearl from Vibratex OR revisit an old classic, the Cadillac of all vibrators, the Magic Wand Original