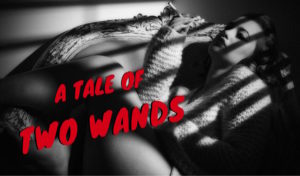 It's raining in Los Angeles. And it's coming down hard. Out on the sopping wet streets, I can hear the crescendo of passing sirens getting louder and louder, then quietly fading to nothing. It's probably cops. A lot of us Angelenos go kinda crazy when the weather gets like this.
I know, I do.
My lover telephones to say, "Sorry sweetheart, I won't be able to make it." (Well he sent a text, but you know what I mean).
I'm already climbing the walls when I get the news I'd be riding solo. And there's no sign this rain is letting up anytime soon. The city is soaked but there's an electric pulse in the air that makes your whole body hum with anticipation. A storm is coming in.
What's a girl to do on a mad night like this? If you think I should watch a movie or curl up with a good book, then you don't know what kind of a dame you're dealing with.
No. There is only one thing to do. Well, two things to be precise… two very special things. And this is their story: a tale of two wands. Continue Reading