In survey after survey, doggy style is rated as one of the favorite sex positions among hetero and queer couples. Often the favorite.
It's a wildly popular position that has the receiving partner propped up on their hands and knees (or elbows and knees) while the giving partner enters from behind.
Why people love doggy style 
Maybe you love this position because of its inherent power dynamics. The setup suggests that the giving partner is dominant, while the receiving partner is more submissive. You might also like it if eye contact during sex feels intimidating, or you're a receiving partner who likes to show off the booty. 
Rear entry also makes deep insertion possible, with a great angle for G-area or prostate stimulation. Speaking of stimulation, if you're the giving partner and you've got a penis, this position can be super arousing – sometimes too arousing. If you're worried about finishing before you're ready, get yourself a quality delay spray. My first recommendation is Promescent*, so just apply, wait a few minutes, and do your thing. It'll calm your nerve receptors down so you can relax and enjoy yourself. 
How to mix up doggy style sex
Because it's an undisputed favorite, doggy style sex can also get a little repetitive. So let's look at 5 ways to play. 
1. Doggy Style: The Classic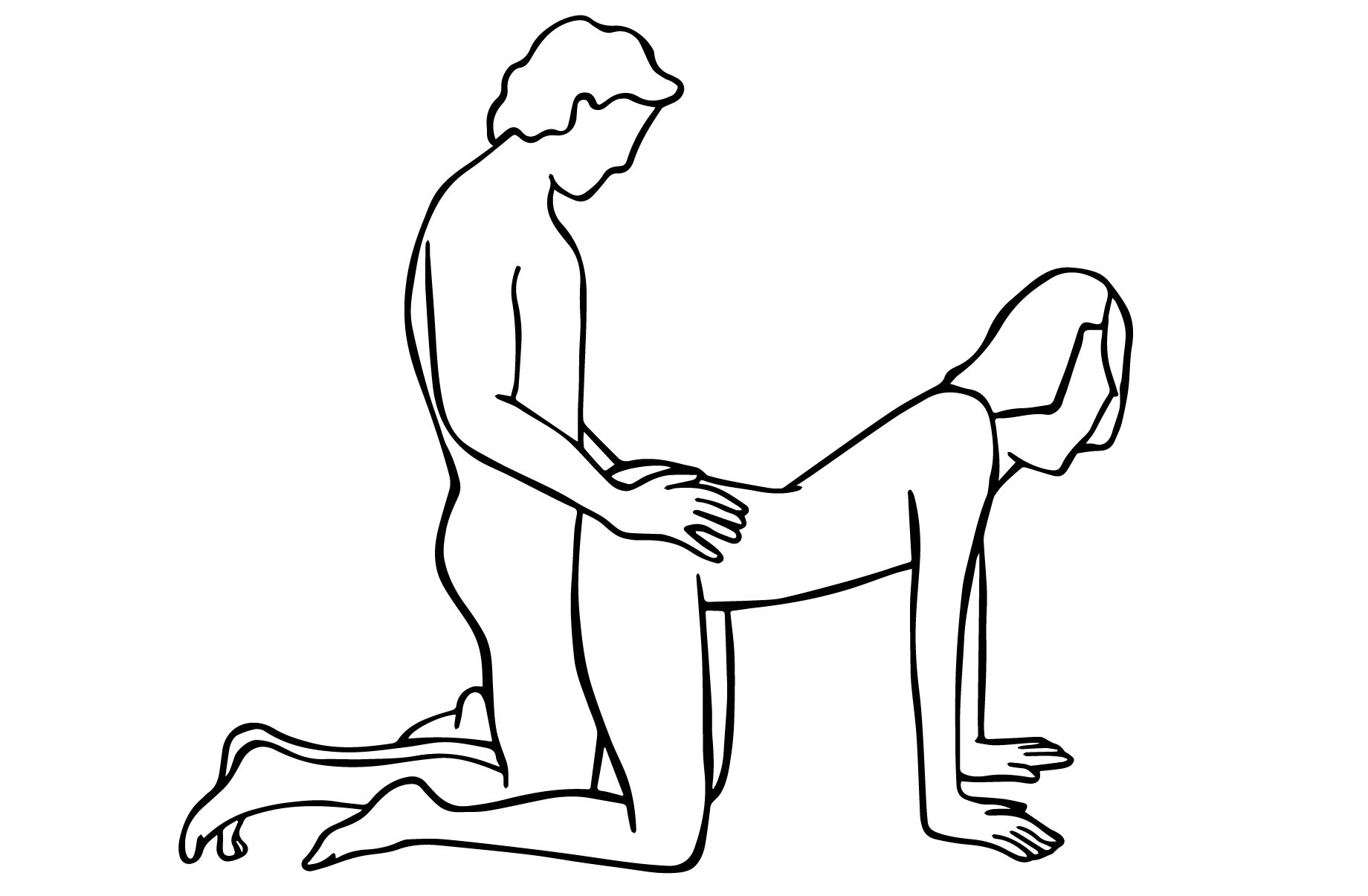 How it works: Just like you see in the image, the receiving partner is on their hands and knees, like a cat-cow yoga position. From there, the giving partner enters from behind.
Why it's hot: Deep thrusting allowed. You can make whatever facial expression you want. What's not to love?
Make it better:The receiving partner has full access to their own genitals. Why not apply vibes? If you've got a vulva, I'm currently loving LELO's new Enigma Wave**: a triple stimulator toy that uses air waves to simulate amazing oral sex. (Can you imagine the feeling of oral while getting penetrated like this?) During your next solo sex sesh, you can also play with the toy's insertable tail: it vibrates and mimics a finger-like massage for internal G-spot stimulation, while the clitoris gets those pleasurable air waves…leading to a super satisfying, blended orgasm.
2. Doggy Style Oral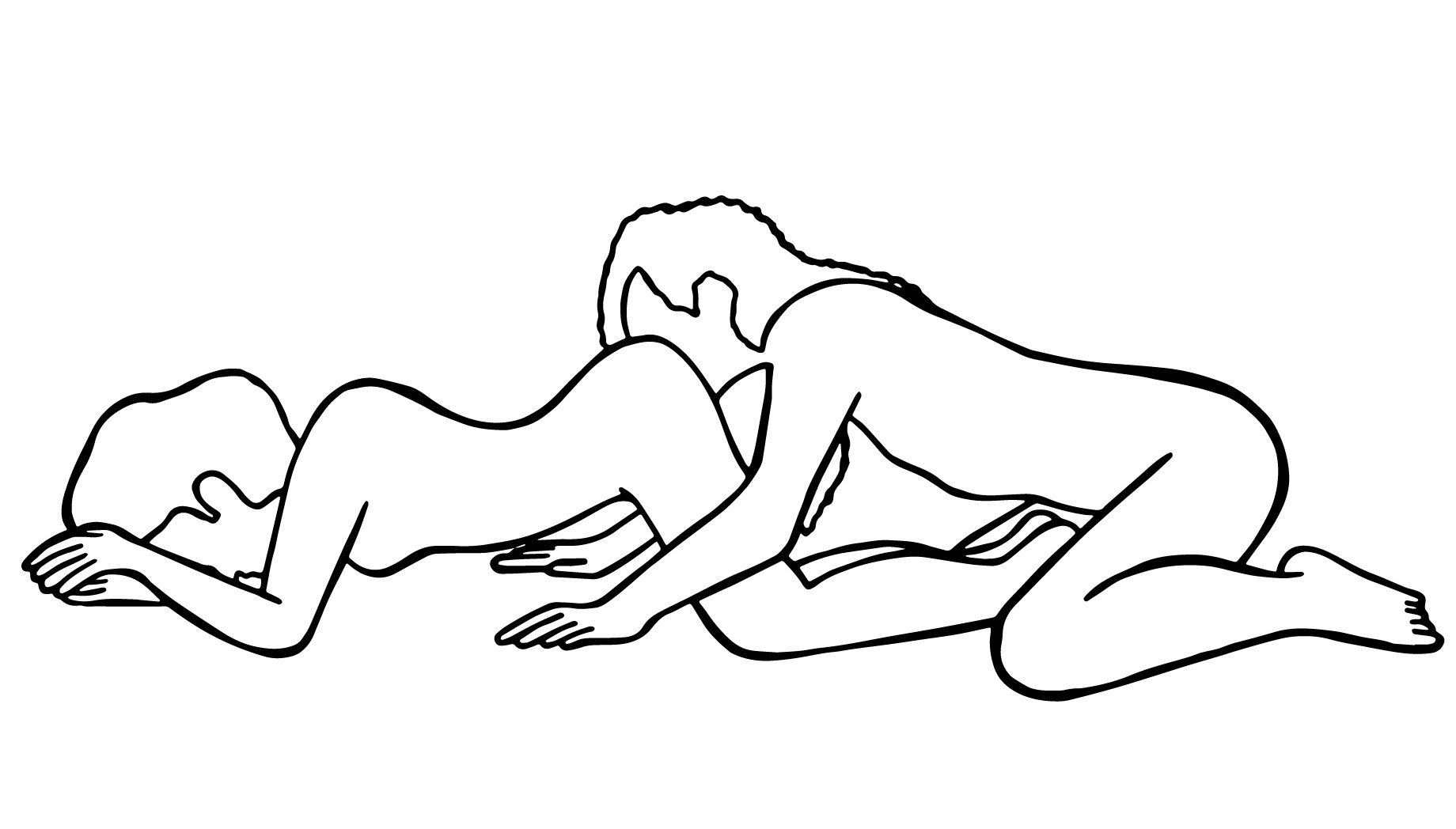 How it works: The receiving partner lays down, elbows propped. Meanwhile, they lift their booty up to give their partner mouth-access to their genitals. 
Why it's hot: A fresh way to do oral. Lots of access to the booty, if you'd like to add anal play to the mix. 
Make it better: If you're the giving partner, why not turn oral sex into dessert? Apply flavored lube to their genitals and dive in. 
3. Flat Iron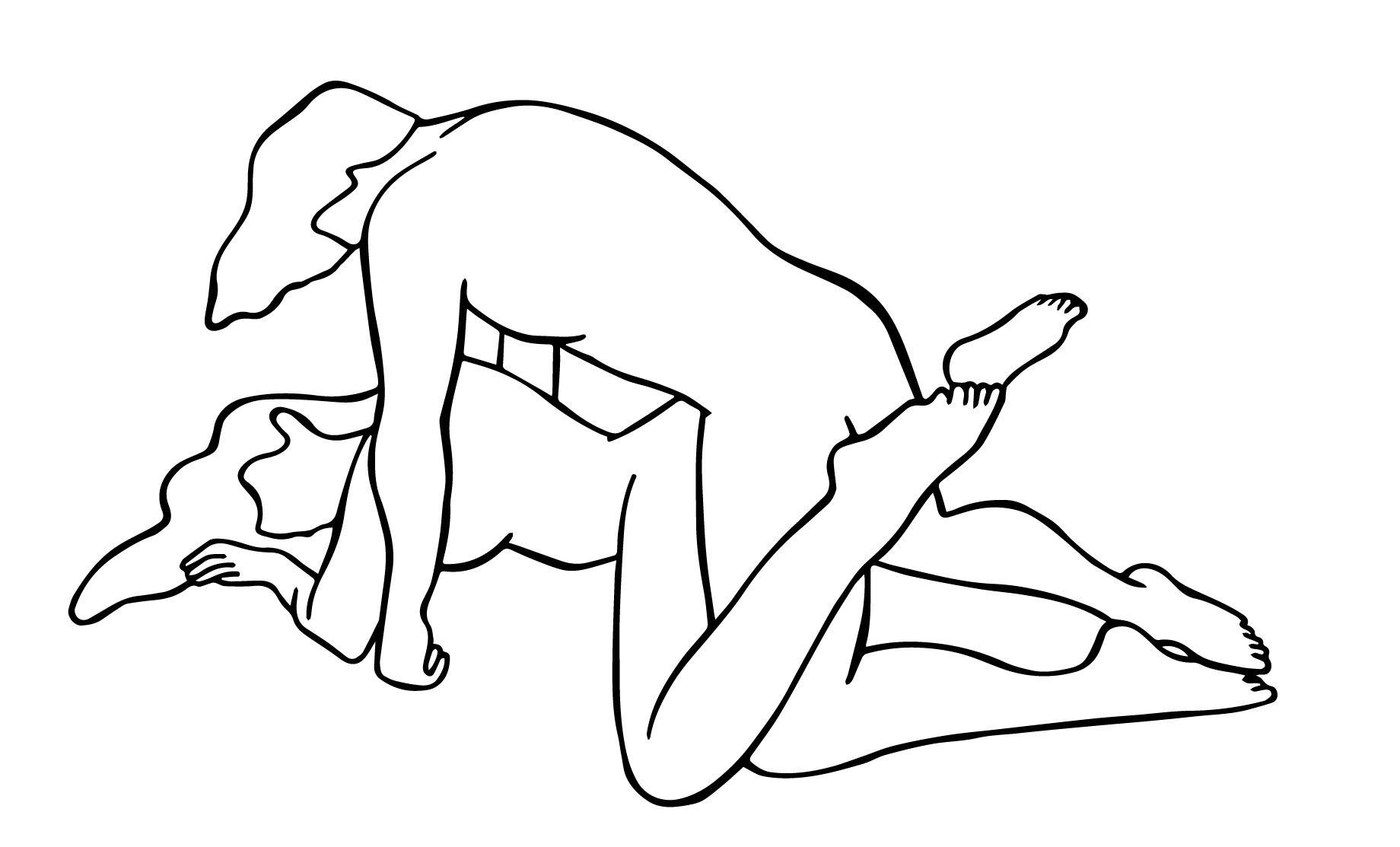 How it works: The receiving partner lies flat on their belly and lifts their hips and booty up, while the giver enters them from behind. 
Why it's hot: Excellent for anal penetration. Super deep insertion. And the giving partner can pin the receiving partner's wrists down (with consent), if you want to play with dominance/submission dynamics. 
Make it better: Use an arousal gel before penetration. Apply it to the vagina and/or anal opening of the receiving partner, then tease them, giving partner, with shallow and deep thrusts. The arousal gel will make their nerve endings stand at attention, so your teases are even more effective.  
4. Standing Wheelbarrow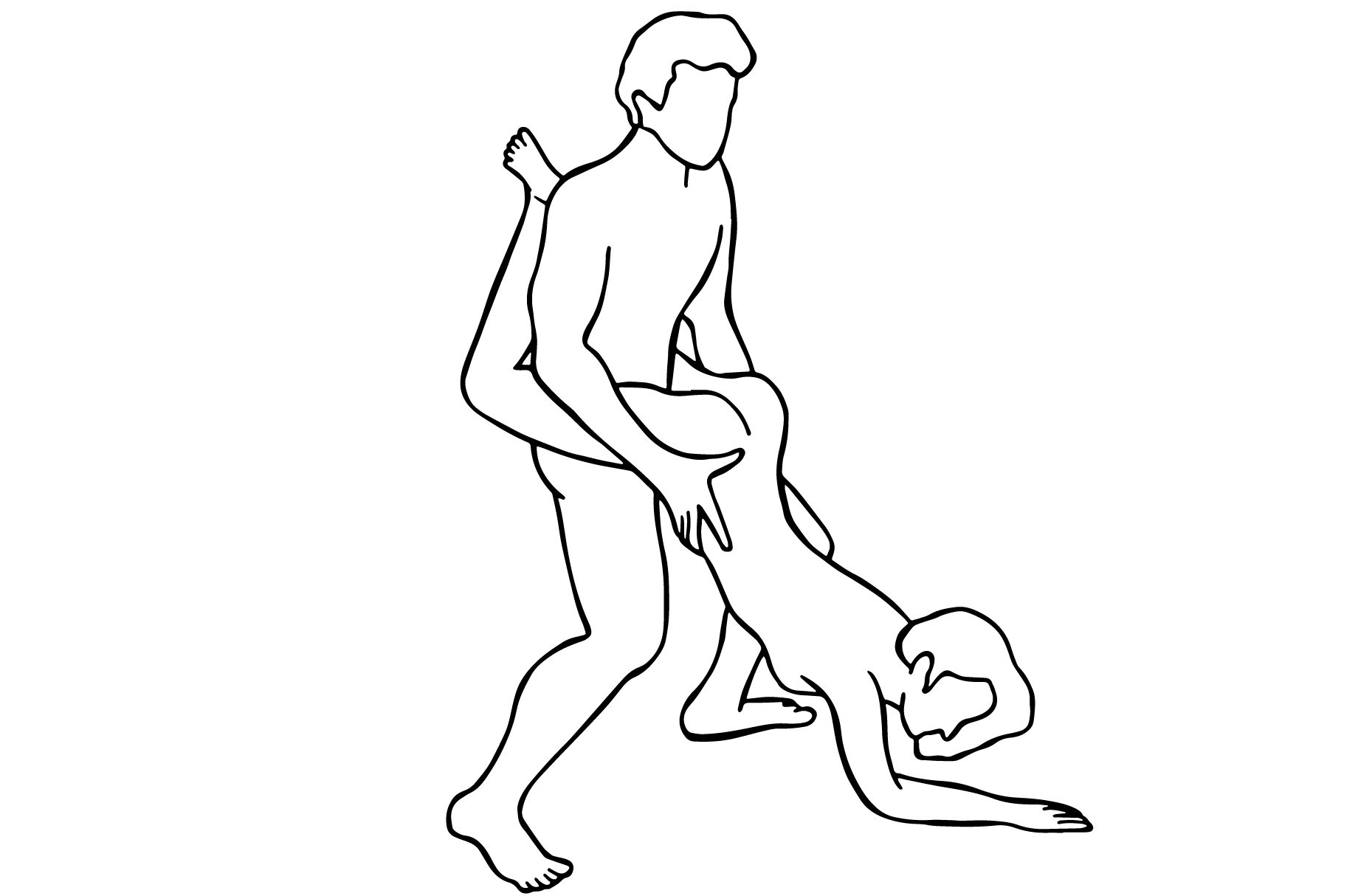 How it works: The recipient starts on all fours on the ground, and their partner enters them from behind. Then, the giver simultaneously stands and lifts their partner up by the thighs or the waist. The receiver wraps their legs back around their partners', while the giving partner supports their top half with their arms. 
Why it's hot: This one's definitely for the position junkies and the experimental. Not going to lie, this is a strenuous position, so in my book you're hot just for trying. 
Make it better: Place something soft beneath the receiving partner's elbows, like a pillow. That'll feel way better on their joints. You can also wear a vibrating cock ring, giving partner, to stimulate their clitoris while thrusting. 
5. Doggy Style Standing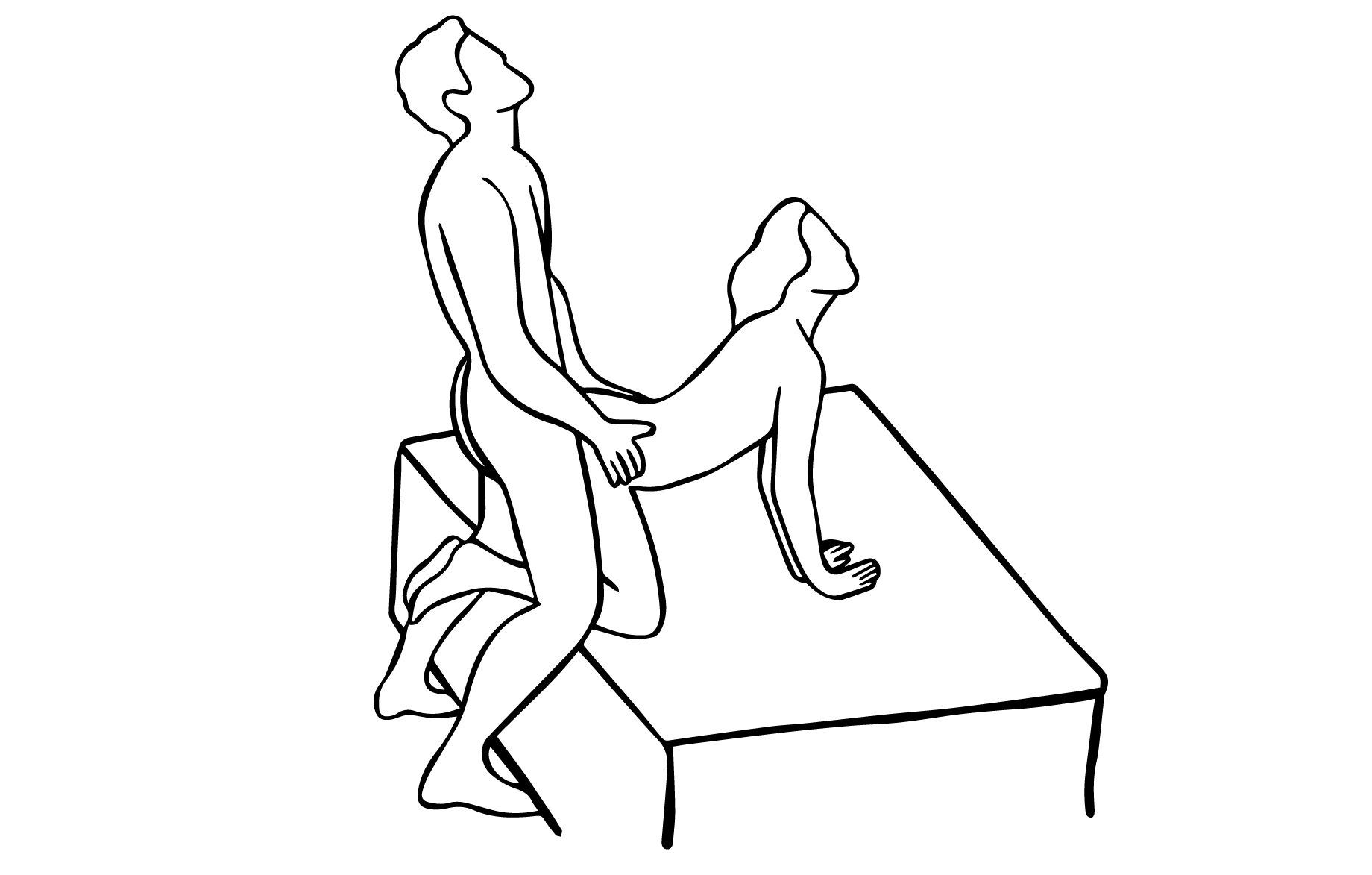 How it works: Have the giving partner stand on the edge of the bed, while the receiving partner braces their leg or knee on a stable surface. Alternatively, both partners can stand while the receiving partner leans forward against the bed, or braces their hands on the wall in front.
Why it's hot: For one, it's a gentler bend at the hips, so the giving partner won't go in as deeply. That's an advantage if you're the receiving partner, and rear entry feels like too much. But two, you're standing! Standing sex = we-just-couldn't-wait energy. 
Make it better: Do it in the shower. Clean-up is a breeze, and would you look at that: soooo many waterproof sex toys to invite to the party. Et voila: your doggy style (rear entry!) game just got even more exciting. Try one of these tweaks, and see which one becomes your new favorite. 
Want more? Sign up for my newsletter and get sex secrets on the regular.
* Get 15% off your order at promescent.com/emily
** Use code "SEXWITHEMILY" for 25% off your order at LELO