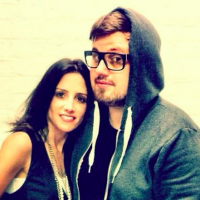 In this very special episode of Sex With Emily, a reunion takes place..
Emily and Menace are back again, and they discuss some recent sex trends, engage in a little reminiscing and dish out some much-needed listener advice.
Today's email topics include:
– A question on Kegel Exercises for men
– How to recover from a bad oral experience
– How to handle dubious boyfriend behavior
– How to tell if she's really interested
– How to deliver multiple O's
But first, Emily and Menace have some catching up to do. Between conversations about friendships with exes and weddings, the two talk about Emily's upcoming Hustler workshop "How to Blow (His Mind)" which will take place October 25th in beautiful San Diego.
Then it's on to your listener emails! How do you get past a bad oral experience and learn how to love going down? Emily and Menace give advice for a listener with post-traumatic oral disorder, and revisit the issue of down-there hygiene. Then they help a listener whose boyfriend has been acting suspicious – Should she get some answers or just get going? Also addressed: how to keep yourself out of the friend zone and how to hand out multiple orgasms.
Emily and Menace emphasize the importance of being direct – You only get one life to live, so why waste it on mixed signals? Be confident, make the move and open up the conversation to get the sex and relationships that you deserve! All this and more in the latest Sex With Emily podcast.
Can't get enough SexWithEmily?
Subscribe on iTunes and never miss your bi-weekly Sex With Emily podcast…
Special discounts for listeners of Sex With Emily:
Use coupon code GVEMILY20 for 20% off at Good Vibrations and coupon code EMILY for 20% off my Aromatherapy Massage Candle and DownUnder Comfort at Emily& Tony
Go to Promescent to make love longer.
Increase your stamina with the #1 selling sex toy for men, Fleshlight. Use code: Emily to get a FREE bottle of Fleshlube with your purchase.
Stop by Hustler Stores in Hollywood or the closest store near you for all your kinky needs- Don't forget to mention "Sex With Emily" at the counter for 20% off your purchase.