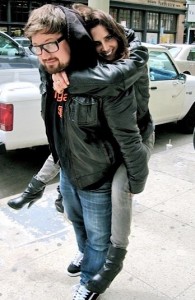 In this throwback podcast from 2013, Emily and Menace are here to help you discover new ways to experience pleasure that you might not have thought of before. Whether you're having difficulty climaxing coitally or communicating your sexual concerns, Emily has answers for your every sex issue!
Did you know that the part of the brain that triggers sensation in your clitoris is the same part that triggers sensation in the breasts? Or that you can give a woman immense pleasure with nipple nibbling, breast cupping, light pinching, and licking? Did you know that a woman can even reach orgasm through stimulation of her breasts alone? Emily provides detailed directions on how you (or your partner) can achieve the much sought-after, elusive breast-gasm. It might take practice, but it's worth every tickle and flick.
Emily also answers an email from a man who's afraid his masturbation expertise has rendered him unable to orgasm during sex (it can happen to guys too!) Sometimes all you need is a little variation in your sex routine. Speaking of switching it up, she also helps a guy who's desperate to get his wife of 17 years to try some spicy new moves in bed. Like Emily always says, communication is a lubrication!
From phantom orgasms to nipple orgasms to self-induced orgasms, this classic show is firing on all climactic cylinders. Learn some new tricks and tips for upping your O game in this classic Sex With Emily episode.
Can't get enough SexWithEmily?
Subscribe on iTunes and never miss your bi-weekly Sex With Emily podcast…
Special discounts for listeners of Sex With Emily:
Use coupon code Emily for 15% off at Good Vibrations and coupon code EMILY for 20% off my Aromatherapy Massage Candle and DownUnder Comfort at Emily& Tony.
Go to Promescent to make love longer.
Increase your stamina with the #1 selling sex toy for men, Fleshlight. Use code: Emily to get a FREE bottle of Fleshlube with your purchase.
Stop by Hustler Stores in Hollywood or the closest store near you for all your kinky needs- Don't forget to mention "Sex With Emily" at the counter for 20% off your purchase.