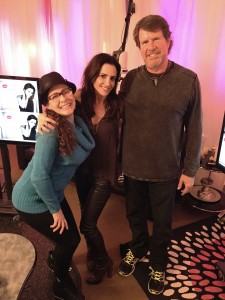 Tonight's show is all about helping you learn what sex can be at it's very best. Emily welcomes two guests with a very unusual profession: Tamar and Raymond Reilly are a happily married couple who also happen to be sex surrogate therapists. Together they address some common sexual roadblocks people experience and give tips to help you improve your life, both in and out of the bedroom.
So what exactly is a sex surrogate? Tamar and Raymond are "sexual healers" who help people get out of their heads and in touch with their bodies in order to experience and enjoy real intimacy. Something every person can benefit from. Tamar and Raymond answer some common questions about their profession: How much sex with patients is actually involved? Do they get aroused during sessions? And how do they perform when under pressure?
From trying everything "twice'  to being present in the bedroom, Emily, Tamar and Raymond share some of their top tips to help couples enhance their sex lives. Plus how to make open relationships actually work, letting go of jealousy and enjoy experiences as they present themselves.
Emily and her guests explain why and how you should never stop learning how to be an amazing lover. Great sex is not an innate skill – It's something you have to expand and work toward. This Podcast has tips to help you find your way and have the best sex of your life.
Can't get enough SexWithEmily?
Subscribe on iTunes and never miss your bi-weekly Sex With Emily podcast…
Special discounts for listeners of Sex With Emily:
Use coupon code GVEMILY20 for 20% off at Good Vibrations and coupon code EMILY for 20% off my Aromatherapy Massage Candle and DownUnder Comfort at Emily& Tony.
Go to Promescent to make love longer.
Increase your stamina with the #1 selling sex toy for men, Fleshlight. Use code: Emily to get a FREE bottle of Fleshlube with your purchase.
Stop by Hustler Stores in Hollywood or the closest store near you for all your kinky needs- Don't forget to mention "Sex With Emily" at the counter for 20% off your purchase.