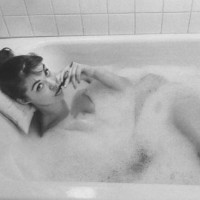 On today's podcast, Emily answers your most pressing questions about the benefits of masturbation, tips for first time anal sex, and how to deal with the anxiety when you're with a more experienced lover.
May is masturbation month! Make sure you celebrate as often as possible, Emily reviews ways to exercise your PC muscles by doing Kegel exercises (Kegel Camp app will help you) while you masturbate to help you have better sex. You're really going to get to know yourself this month if you take time to explore your body even more.
Having trouble talking to your partner about sex? Emily explains how to start the conversation with your partner so you can ask for what you want in the bedroom and find out what your partner needs.
Ready to try something new? Or are you looking for tips on an old favorite? Emily and Anderson of the The Film Vault podcast discuss some great tips on how to successfully enjoy the pleasures of anal sex. Please send all your sex and relationship questions to feedback@sexwithemily.com
Also take our ten second Survey, just click on the banner over to the right of our page. Even better Sex with Emily is just a click away.
Special discounts for listeners of Sex With Emily:
Use coupon code GVEMILY20 for 20% off at Good Vibrations.
Use coupon code EMILY25 for 25% off at Crazy Girl,
and coupon code EMILY for 20% off my Aromatherapy Massage Candle and DownUnder Comfort at Emily & Tony.
Go to Promescent to make love longer.
Increase your stamina with the #1 selling sex toy for men, Fleshlight.