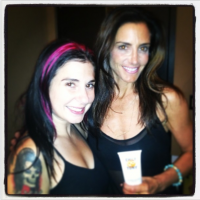 Porn Star Joanna Angel gives an Anal Sex Seminar with pointers on how to make it less painful and scary. Then she talks about double penetration, because apparently that makes anal less scary? And that's only the beginning of what we learn from the porn punk princess.
Joanna Angel has really done it all. She gives tips for dominating men and women, and the easiest way to tie them up. She continues with specific oral sex tricks for performing on men and women.
Lastly, she shares how to talk to your partner in bed. Dirty talk doesn't work if you censor yourself. Just let out all out and do YOU! Speaking of doing you, Joanna talks about the importance of masturbation. Enjoy the show!
Joanna Angel's Anal Sex Tip
Relax, People tense up, but when they tense up you can't get anything in their butt. Start with your fingers. Doing something familiar is helpful when you are doing something unfamiliar. If a girl has a G-spot, find that G-spot then go into her ass. Then she has something going on that she knows, and her body is more relaxed. I learned that when I had two penises inside me…
If you want to change your love life check out: Emily and Tony, Promescent, Crazy Girl, Max4Men, Masque, and Good Vibrations.
Emily and Tony is a premium, intimate personal-care brand that believes intimacy should be fun, flirty, sensual and natural. Our products: Aromatherapy Massage Candle, Personal Naturally Hydrating Lubricant, and DownUnder Comfort for you sweaty nether regions.
Use coupon code Emily25 at checkout for 25% off your purchase at Crazy Girl and Max4Men.
Use coupon code GVEmily20 at checkout for 20% off purchases of $100 or more at Good Vibrations. Or use coupon code Emily for 15% off anything at Good Vibrations.