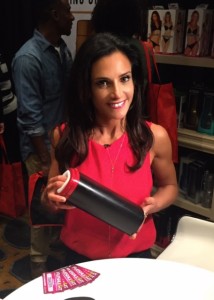 Now that the excitement of Valentine's day has passed, you're probably thinking, "What's next"? In this show, Emily shares tips on how to keep your sex and dating game going strong all year long, and answers your emails on porn problems, quickies and missing orgasms!
But first, Emily shares the results of Timeout.com's "World of Dating" survey, which gives an inside look into the dating habits of 11,000 singles in 24 cities. It turns out that Paris is for lovers, Sydney is for singles and LA daters think the most highly of themselves. No surprises there. From New York to London to Kuala Lumpur, Emily has the secret to finding your match: Be the person you want to date!
Also, Emily responds to your emails that you sent to Feedback@SexWithEmily.com. Topics include a 19 year old woman who wants tips to have her first orgasm, the man whose partner prefers quickies over foreplay, and she helps a couple navigate a tricky porn situation.
Want to know which city finds bad breath the ultimate deal breaker? Or how most of the world is meeting their match? Emily's got your answers, plus more. This show is all about dating (and a little bit of sex), so take what you need and enjoy the rest.
Can't get enough SexWithEmily?
Subscribe on iTunes and never miss your bi-weekly Sex With Emily podcast…
Special discounts for listeners of Sex With Emily:
Use coupon code GVEMILY20 for 20% off at Good Vibrations and coupon code EMILY for 20% off my Aromatherapy Massage Candle and DownUnder Comfort at Emily& Tony.
Go to Promescent to make love longer.
Increase your stamina with the #1 selling sex toy for men, Fleshlight. Use code: Emily to get a FREE bottle of Fleshlube with your purchase.
Save 10% off beautiful high-quality sex toys at Je Joue when you use code: Emily
Stop by Hustler Stores in Hollywood or the closest store near you for all your kinky needs- Don't forget to mention "Sex With Emily" at the counter for 20% off your purchase.
PS. As a special gift for Sex with Emily listeners, Craft Vapery is offering 20% off subscriptions and 10% off all shop orders through March 31st with the promo code NAUGHTYEMILY!