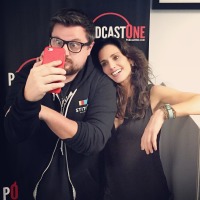 Have you ever wanted to have a sex-related conversation, but didn't know how to get things started? In this show, Emily teaches you how to approach your partner for what you want in bed, and gives tips to guide you through the big sex talk.
As we all know, sex can be a sensitive subject. From timing to tone to knowing your end goal, Emily walks you through the steps of constructive sexual communication. Not sure how the conversation should go? Don't worry, she's got you covered.
With the help of Menace and her assistant Madison, Emily role-plays some sample sexual scripts, including how to ask your partner for a threesome, how to introduce the idea of anal sex and how to bring sex toys into the bedroom. They tell you what to say (and what not to say)
Plus, Menace grills Emily for some updates on her dating life and finds out what she's working on for the new year. Good news for guys everywhere, Emily is back on Tinder! Bad news, Menace is trolling her matches.
As Emily always says, communication is a lubrication. If you want to take sex "to the next level", you have to be able to talk it out. This show teaches you HOW to have those awkward sex conversations, to help you get the sex life you've always wanted. Check it out!
Can't get enough SexWithEmily?
Subscribe on iTunes and never miss your bi-weekly Sex With Emily podcast…
Special discounts for listeners of Sex With Emily:
Use coupon code GVEMILY20 for 20% off at Good Vibrations and coupon code EMILY for 20% off my Aromatherapy Massage Candle and DownUnder Comfort at Emily& Tony.
Go to Promescent to make love longer.
Increase your stamina with the #1 selling sex toy for men, Fleshlight. Use code: Emily to get a FREE bottle of Fleshlube with your purchase.
Save 10% off beautiful high-quality sex toys at Je Joue when you use code: Emily
Stop by Hustler Stores in Hollywood or the closest store near you for all your kinky needs- Don't forget to mention "Sex With Emily" at the counter for 20% off your purchase.