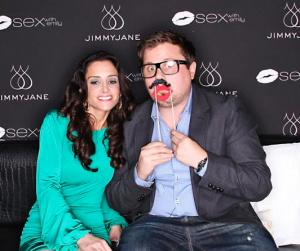 In today's show, Emily's dishing out advice to help you have the best sex and relationships, based on the questions you sent to Feedback@SexWithEmily.com. Topics include how to last longer in bed, how to make scheduled sex fun, and how to get back into the dating scene after being hurt.
Emily helps a self-proclaimed "baby-making robot" bring the spice back into her sex life, despite a grueling sex schedule. With a little creativity and the right toys, even planned sex session can be be really hot! She also dishes out tips for a listener on how to master mutual orgasms despite a lagging libido, and helps a guy get over his past relationship traumas to start dating again.
Menace offers some controversial tips on how to land the prettiest girl in the room, while Emily questions the effectiveness of dating games. To play or not to play? That is the question.
It's no secret, we all want more orgasms – But what if you were having 90 an hour? Emily and Menace discuss an unlucky woman whose orgasms are taking over her life.. Turns out there is a thing as too much pleasure.
No matter what has happened in the past, or what you're trying to make happen for your future, Emily is here to remind us what were may have forgotten along the way – Sex and dating are meant to be fun! This podcast has the tips you need to move forward in your sex life and in your relationship.
Can't get enough SexWithEmily?
Subscribe on iTunes and never miss your bi-weekly Sex With Emily podcast…
Special discounts for listeners of Sex With Emily:
Use coupon code GVEMILY20 for 20% off at Good Vibrations and coupon code EMILY for 20% off my Aromatherapy Massage Candle and DownUnder Comfort at Emily& Tony.
Go to Promescent to make love longer.
Increase your stamina with the #1 selling sex toy for men, Fleshlight. Use code: Emily to get a FREE bottle of Fleshlube with your purchase.
Stop by Hustler Stores in Hollywood or the closest store near you for all your kinky needs- Don't forget to mention "Sex With Emily" at the counter for 20% off your purchase.