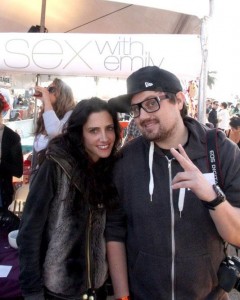 This week's Podcast is all about how being the best you can be.. Especially in the bedroom! Emily recaps on the 5 mistakes guys may or may not be making in bed, and gives advice on how to avoid them. She and Menace discuss some new developments in sex and dating, and help a listener improve her dirty talking skills.
Emily and Menace start off with a discussion on dating and mating in the LA scene, and consider some questions of modern-day monogamy. Did you know that more than half of women have a marriage Plan-B? It's like a back-up drive for your current spouse, and apparently it's "all the rage".
Then it's on to some common mistakes men make it bed!
Do you not know your way around the female anatomy?
Are you jumping the gun with the kinky stuff?
Do you go pawing around her backdoor without an invitation?
Are you guilty of *gasp* doing the jackhammer?
Emily gives tips to help you slow down, ask questions and view every vagina as an opportunity to learn. You'll be a bedroom master in no time!
Next, advice for a listener with some bedroom insecurities. Emily gives a crash course in how to talk dirty – and it won't even cost you $2.50 per minute! – and teaches you how to rock it when you're on top.
From Facebook "poking" to scrotal condoms to the car that'll make you say "Give me the D", this show is chock full of fun tips and tricks to help you stay on top of your sex and dating game. Check it out!
Can't get enough SexWithEmily?
Subscribe on iTunes and never miss your bi-weekly Sex With Emily podcast…
Special discounts for listeners of Sex With Emily:
Use coupon code GVEMILY20 for 20% off at Good Vibrations and coupon code EMILY for 20% off my Aromatherapy Massage Candle and DownUnder Comfort at Emily& Tony.
Go to Promescent to make love longer.
Increase your stamina with the #1 selling sex toy for men, Fleshlight. Use code: Emily to get a FREE bottle of Fleshlube with your purchase.
Stop by Hustler Stores in Hollywood or the closest store near you for all your kinky needs- Don't forget to mention "Sex With Emily" at the counter for 20% off your purchase.