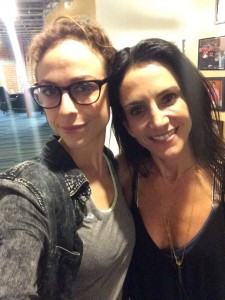 Emily explains how to have better sex by going back to basics, and this round she is talking kissing, hand jobs, oral and more! Joined by Shira Lazar, host of the interactive daily show "What's Trending", and all-around cool girl, Emily discusses some of the key cornerstones of great sex.
The ladies start off with a discussion on what it's like to be single and trending in Los Angeles. They dish on a couple celeb-fan scandals, get into a little sex toy talk, and share their mutual gratitude for their lady parts!
Then it's on to the hookup basics:
First up – how to deal with a bad kisser. While some see it as a deal breaker, Emily and Shira see a challenge! They share tricks to turn that bad kisser into a mouth-to-mouth master.
Next, it's all about foreplay basics and a return to the hand job versus blow job debate. Sure hand jobs are a lot of work, but Emily is determined to bring the handy back! From the "OK" grip to the sausage wrap, Emily schools us in the art of manual stimulation, and teaches you how to give one hell of a hand job. Really want to impress a man in the bedroom? Ask him to show you how HE likes it done.
Emily and Shira share some personal secrets to really good sex, like how to get turned on by turning someone on, how being enthusiastic enhances enjoyment, and how getting existential in the bedroom can be really hot!
From kissing to manual to oral and beyond, this Podcast teaches you how brushing up on those basic skills can take you from a deal breaker to a better lover.
Can't get enough SexWithEmily?
Subscribe on iTunes and never miss your bi-weekly Sex With Emily podcast…
Special discounts for listeners of Sex With Emily:
Use coupon code GVEMILY20 for 20% off at Good Vibrations and coupon code EMILY for 20% off my Aromatherapy Massage Candle and DownUnder Comfort at Emily& Tony
Go to Promescent to make love longer.
Increase your stamina with the #1 selling sex toy for men, Fleshlight.
Stop by Hustler Stores in Hollywood or the closest store near you for all your kinky needs- Don't forget to mention "Sex With Emily" at the counter for 20% off your purchase.