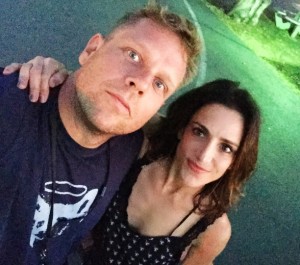 It's a widely accepted fact that sex feels good. But for so many ladies out there, it could feel so much better! Today's show is all about different ways for women to amplify their sexual pleasure, from sex toy hacks to orgasmic new medical advances!
Emily takes a call from Dr. Lisbeth Roy, an expert on a new non-surgical medical procedure called the O-Shot, which stimulates the vagina and clitoris in a way that positively impacts libido, arousal and orgasm! Some are calling it the "Shot Heard 'Round the World", but one thing is for sure: the O-shot's platelet-based regenerative therapy has the power to pull you out of your sexual dysfunction funk. Dr. Roy breaks down the details and benefits of the innovative injection, which has produced outstanding results in many patients with no negative side-effects!
Emily tackles your emails on finding the right sex toy if you're a beginner, and finding your mojo after you've lost your sexual confidence; loving yourself is step one! She and Anderson also discuss some surprising statistics in Sex In the News, including a study showing that women are more likely to propose open relationships than men,  and another suggesting that "weird" people find love more quickly than "conformists." Oddballs rejoice!
This show is a veritable treasure trove of useful information on how to increase sexual response and pleasure for women. Whether you've been going through a hormonal change, a lifestyle change or a masturbatory malfunction, this show is one to tune in to!
Can't get enough SexWithEmily?
Subscribe on iTunes and never miss your bi-weekly Sex With Emily podcast…
Special discounts for listeners of Sex With Emily:
Use coupon code Emily for 15% off at Good Vibrations and coupon code EMILY for 20% off my Aromatherapy Massage Candle and DownUnder Comfort at Emily& Tony.
Go to Promescent to make love longer.
Increase your stamina with the #1 selling sex toy for men, Fleshlight. Use code: Emily to get a FREE bottle of Fleshlube with your purchase.
Stop by Hustler Stores in Hollywood or the closest store near you for all your kinky needs- Don't forget to mention "Sex With Emily" at the counter for 20% off your purchase.