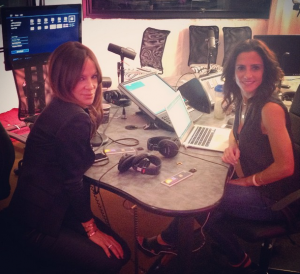 Today's show is all about sexual confidence: How do you get it, how do you work it, and how do you become a star in the bedroom? Emily is joined in the studio by Robin Antin to talk dancing and sex appeal, two things she knows all about! So what IS sexy? Emily and Robin share their personal secrets to sexiness, and tell us how to discover our inner sex appeal!
But first, Emily recaps on her recent Vegas trip for the sex toy show! From the Magic Wand fairy who gifted the team with free Magic Wands, to the ride home in a Mini-Cooper stuffed with sex toys and shoes, she shares hilarious stories from the International Lingerie Show. True, she didn't have sex, but she got a few good offers!
Then Emily moves on to her guest, the founder of the "Pussycat Dolls", choreographer, producer, director, designer, entrepreneur and all-around sex-positive bombshell, Robin Antin. The two dish about all things sexy, and discuss the number one thing killing women's sex lives: your lack of sexual confidence. Confidence is the best aphrodisiac, and the great part about it is that anyone can have it. They give tips and tricks for cultivating sexual confidence in all aspects of your life.
The ladies explain why having sex is a lot like performing – as soon as you hit that stage (aka the bedroom) you must push past your insecurities and work what you've got! Robin tells us how she danced her way to sexual confidence, and how you can too! She and Emily talk about the importance of being in touch with your body, and how that can lead to amazing sex.
Emily and Robin move on to how to make even the most complicated relationships work: Sometimes you have let the small things go, because let's be honest, no one's perfect! Also discussed: What the ladies find sexiest in a man. Here's a hint: the sexiest thing a guy can wear is his confidence (although a really nice suit is a close second!)
This show teaches you how to achieve ultimate sexiness, from fitness to style to the best sex toys on the market! It also answers some sexier questions: How does one do a sexy squat? Is there a Pussycat Sex-Doll in our future? And can Emily turn Robin into a sex toy believer?
All this and more in the latest Sex With Emily podcast!
Send your questions, comments and fantasies to: feedback@sexwithemily.com
Can't get enough SexWithEmily?
Subscribe on iTunes and never miss your bi-weekly Sex With Emily podcast…
Special discounts for listeners of Sex With Emily:
Use coupon code GVEMILY20 for 20% off at Good Vibrations and coupon code EMILY for 20% off my Aromatherapy Massage Candle and DownUnder Comfort at Emily& Tony
Go to Promescent to make love longer.
Increase your stamina with the #1 selling sex toy for men, Fleshlight.
Stop by Hustler Stores in Hollywood or the closest store near you for all your kinky needs- Don't forget to mention "Sex With Emily" at the counter for 20% off your purchase.