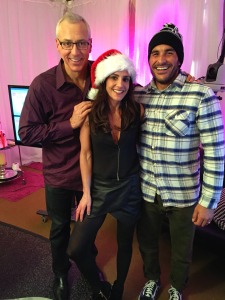 Tonight's show marks a couple of very important firsts: It is Emily's first time in a Santa Hat (gasp) and it is the first official Loveline/Sex With Emily crossover podcast. Can you handle it?
Emily is joined by Dr. Drew Pinsky and Mike Catherwood, the dynamic hosts from the popular syndicated radio show Loveline, to talk sex, relationships and Loveline over the years! Together they address a variety of topics, including marriage, pornography and the impact Tinder is having on our sex lives. They also give advice to a listener suffering from a shattered self-confidence.
Between talk of porn and the trouble with Tinder, the gang tackles the topic of monogamy – How do you build a life with a person, and what does it take to make it last? While there is no one path to married bliss, Dr. Drew and Mike share their own personal tips for a happy and successful relationship.
What is it about the male preoccupation with penis size?  Mike shares his struggle with body image and they answer a listener email on a similar topic. How do you build yourself up and start dating again, after suffering a serious blow to your ego? Emily, Mike and Dr. Drew provide  guidance.
From how to make monogamy count to masturbation as a decision-making tool, this show is packed with useful information that will help you grow, both as a lover and as a person. And if that doesn't do it for you, there's always Mike's Texas MILF adventure to keep you entertained. All this and more in the latest Sex With Emily podcast!
In case you missed the Live Stream of Thursday's show, you can catch up on all the good stuff right here..
Can't get enough SexWithEmily?
Subscribe on iTunes and never miss your bi-weekly Sex With Emily podcast…
Special discounts for listeners of Sex With Emily:
Use coupon code GVEMILY20 for 20% off at Good Vibrations and coupon code EMILY for 20% off my Aromatherapy Massage Candle and DownUnder Comfort at Emily& Tony.
Go to Promescent to make love longer.
Increase your stamina with the #1 selling sex toy for men, Fleshlight. Use code: Emily to get a FREE bottle of Fleshlube with your purchase.
Save 10% off beautiful high-quality sex toys at Je Joue when you use code: Emily
Stop by Hustler Stores in Hollywood or the closest store near you for all your kinky needs- Don't forget to mention "Sex With Emily" at the counter for 20% off your purchase.