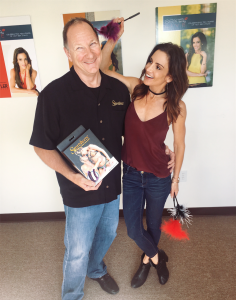 From a velcro wall to your bedroom, it's no secret that Sportsheets has taken the sex world by storm. In today's show, Emily and Menace are joined by CEO and founder of Sportsheets, Tom Stewart. With Tom as their guide, they unpack the evolution of the revolutionary bondage brand, in addition to providing you with you ample advice to satisfy all your carnal curiosities!
Is monogamy slowly becoming a thing of the past? Are you begging for a pegging, but aren't sure how pull it off? How do you change your rollercoaster sex life into something more steady? Tom assists Emily and Menace in answering these questions, and gives us the lowdown on Sportsheets' hottest bondage products, as well as all things pegging and prostate play.
Whether you want to be tethered, tied up, blindfolded or pegged, don't restrain yourself from listening to this podcast!
For more from Sportsheets, visit their website! And don't forget to follow them on Facebook, Twitter & Instagram…
Subscribe on iTunes and never miss your bi-weekly Sex With Emily podcast…
Special discounts for listeners of Sex With Emily:
Enhance your oral sex experience and become the dessert with JO's flavored Gelato lubricants…
Use coupon code Emily for 15% off at Good Vibrations and coupon code EMILY20 for 20% off atHustlerHollywood.com.
Whip those pelvic floor muscles into shape for stronger orgasms with my Kegel Camp app.
Increase your stamina with the #1 selling sex toy for men, Fleshlight or check out the only FDA-approved delay spray Promescent to make love longer…
Looking for a new vibrating best friend? Find somebunny to love at The Rabbit Company! Use code EMILY at checkout…
Explore the tantalizing world of prostate pleasure with the Black Pearl from Vibratex OR revisit an old classic, the Cadillac of all vibrators, the Magic Wand Original