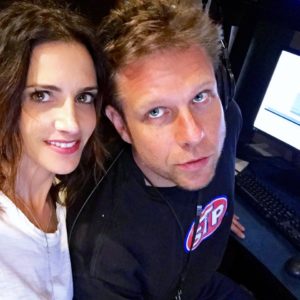 On today's Sex With Emily podcast, we're talking penis size, sexual peaks, and making the most of your favorite sex positions. Learn how to get what you want out of your partner, and gain sexual confidence at the same time!
Emily and Anderson bond over past filmmaking experiences and walk us through an abridged history of the Sex With Emily podcast! Then it's on to Sex in the News which features a new dating site for well-endowed men, and a new study linking marriage to weight gain. Plus, Emily shares the real reason she's not into marriage and gives hard-hitting advice about the "shoulds" in your life.
So we've all heard that women reach their sexual peak later in life, and later than men, but does anyone actually know why? Emily breaks down the real, physiological answer about sexual peaks and explains why women have better sex in their 30's. She also helps a listener with anxiety about the size of his member, and drives home the fact that size doesn't really matter. Also discussed: how to control the situation when "jackhammer" sex occurs and how to handle unwelcome giggle fits in the bedroom.
Whether you're wondering about hormones, college sex problems, or what Emily's housekeeper has gotten herself into, this podcast has all the answers you're looking for. Check it out!
Can't get enough SexWithEmily?
Subscribe on iTunes and never miss your bi-weekly Sex With Emily podcast…
Special discounts for listeners of Sex With Emily:
Use coupon code Emily for 15% off at Good Vibrations and coupon code EMILY for 20% off my Aromatherapy Massage Candle and DownUnder Comfort at Emily& Tony.
Go to Promescent to make love longer.
Increase your stamina with the #1 selling sex toy for men, Fleshlight. Use code: Emily to get a FREE bottle of Fleshlube with your purchase.
Stop by Hustler Stores in Hollywood or the closest store near you for all your kinky needs- Don't forget to mention "Sex With Emily" at the counter for 20% off your purchase.