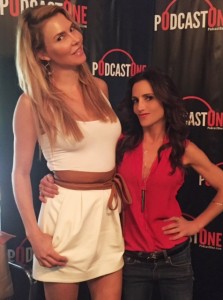 On today's show, Emily welcomes fellow podcaster, television personality, and best-selling author Brandi Glanville. Together, the two get in depth and personal about social media's influence on the dating world, cell phone etiquette, the correct way to approach a threesome, and of course, SEX!
But first, Menace and Emily reminisce about how they met, the origin of Menace's moniker and that one time Menace got manscaped on film.  Also, Emily recaps her experience at the Sexual Health Expo, and in the spirit of International Masturbation Month, her prized new super sex toy, the Sybian.
What does it mean if your partner is too secretive with his/her phone? Do romance and mystery still exist in this share-crazy world?  What do you do if you want to have a threesome? What is a "micro-relationship?"  Emily and Brandi tackle these pressing issues and share stories about how phones, sex toys, and the internet have given them problems in the past. Brandi opens up about her sexual identity, her thoughts about commitment, marriage and divorce, and her biggest sexual pet peeve (aggressively hard kissing.)
From the vaginal rejuvenation, to the dangers of snooping, to the intricacies of dating in a big city, Emily and Brandi dole out a cornucopia of expertise about sex, relationships and everything in between. This episode of Sex With Emily is outrageously fun, insightful and should not be missed!
Can't get enough SexWithEmily?
Subscribe on iTunes and never miss your bi-weekly Sex With Emily podcast…
Special discounts for listeners of Sex With Emily:
Use coupon code Emily for 15% off at Good Vibrations and coupon code EMILY for 20% off my Aromatherapy Massage Candle and DownUnder Comfort at Emily& Tony.
Go to Promescent to make love longer.
Increase your stamina with the #1 selling sex toy for men, Fleshlight. Use code: Emily to get a FREE bottle of Fleshlube with your purchase.
Stop by Hustler Stores in Hollywood or the closest store near you for all your kinky needs- Don't forget to mention "Sex With Emily" at the counter for 20% off your purchase.